In recent years, we have got used to extremely low or indeed negative yields to such a degree that we have to look twice at current yield levels to believe what we're seeing. But it's true: the yield is back. The high inflation has forced central banks to abandon their ultra-loose monetary policies. The extensive purchase programmes are to be reduced. Many central banks have started to increase their key-lending rates. We expect the ECB to follow suit in the foreseeable future. On the financial markets, the (expected) interest rate reversal has already left its marks and caused yields to rise on the most important bond markets.
That being said, the level of euro government bond and euro corporate bond rates of good to very good quality is still comparatively low. In the riskier bond segments (subordinated bonds and high-yield bonds), the rising spreads triggered by geopolitical and economic concerns led to a further increase in yields. Thus, these riskier segments offer interesting return opportunities, albeit at a higher likelihood of default and more substantial volatility.
Yields of selected bond segments over time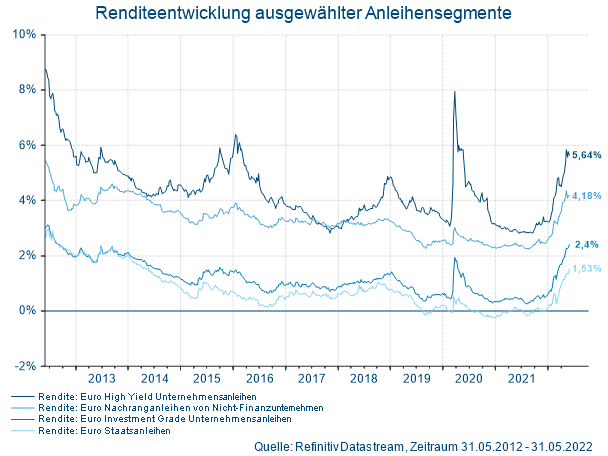 Losses in the year to date
As positive improved yield opportunities are for new investments, yield increases do affect existing investors negatively. Almost all bond segments have incurred significant losses in the year to date. Due to their generally longer maturities, government bonds and corporate bonds from issuers with good to very good ratings (i.e. investment grade) have been particularly badly hit.
Performance of selected bond segments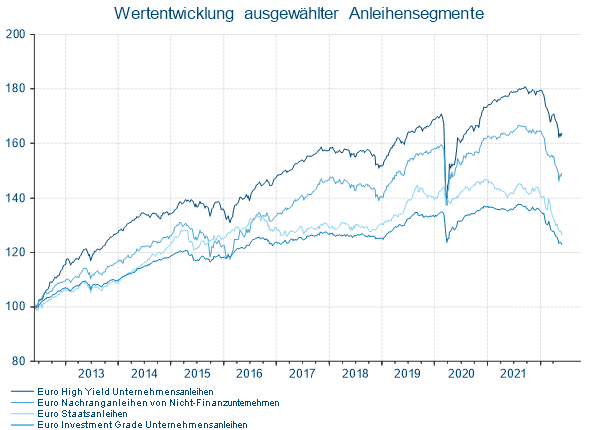 Seize the opportunity of higher yields now
For a chance to put the higher yield level to good use while diversifying their capital across a wide selection of different bond segments, consider ERSTE FIXED INCOME PLUS. The fund was launched four years ago and flexibly invests in different bond segments such as national and international government and corporate bonds, inflation-linked bonds, high-yield bonds, emerging markets bonds, and mortgage bonds by exploiting opportunities on the global interest and currency markets.
The weights of the individual bond segments are set by the tactical asset allocation in order to be able to react to changes in the market environment on an ongoing basis. Depending on our assessment of the market, the weighting of risky bonds my range from zero to 100% (and fluctuate within this range). The fund is denominated in euro, with up to 25% of foreign exchange added in.
The recent increase in yields caused losses for ERSTE FIXED INCOME PLUS as well. Since almost all bond segments were affected by the substantial increase in yields, the flexible investment approach of the fund could not fully take the desired effect.
However, the current yield environment offers opportunities for a dynamic and flexible bond funds such as ERSTE FIXED INCOME PLUS. As of the beginning of May 2022, the fund has increased its focus on high-yield bonds in the USA and Europe. Corporate bonds and government bonds from emerging markets have been reduced slightly in the year to date. The government bonds of developed countries and corporate bonds from the USA and Europe with good to very good ratings command only limited to no weighting in the fund.

The fund pursues an active investment policy and does not follow a benchmark. The assets are selected at our discretion, without any constraints to the latitude of judgement on the investment company's part.
If we disclose portfolio positions of funds, they are based on the market development at the time of going to press. Due to our active management approach, the aforementioned portfolio positions may change at any point.
Please note that investments in equities also involve risks.
For a glossary of technical terms, please visit this link: Fonds-ABC | Erste Asset Management
Legal note:
Prognoses are no reliable indicator for future performance.