Despite inflation and high interest rates, the latest market research data gives hope for another strong US holiday season. Based on an economic forecast model, the National Retail Federation (NRF) expects sales of between USD 957bn and 967bn for the holiday season from November to December. This would represent growth of 3 to 4 per cent compared to the previous year's holiday sales. According to a market study published in September, management consultant firm Deloitte is forecasting sales of between USD 1.54tn and 1.56tn and an increase in sales of 3.5 to 4.6 per cent for the period from November to January.
Holiday Sales in the US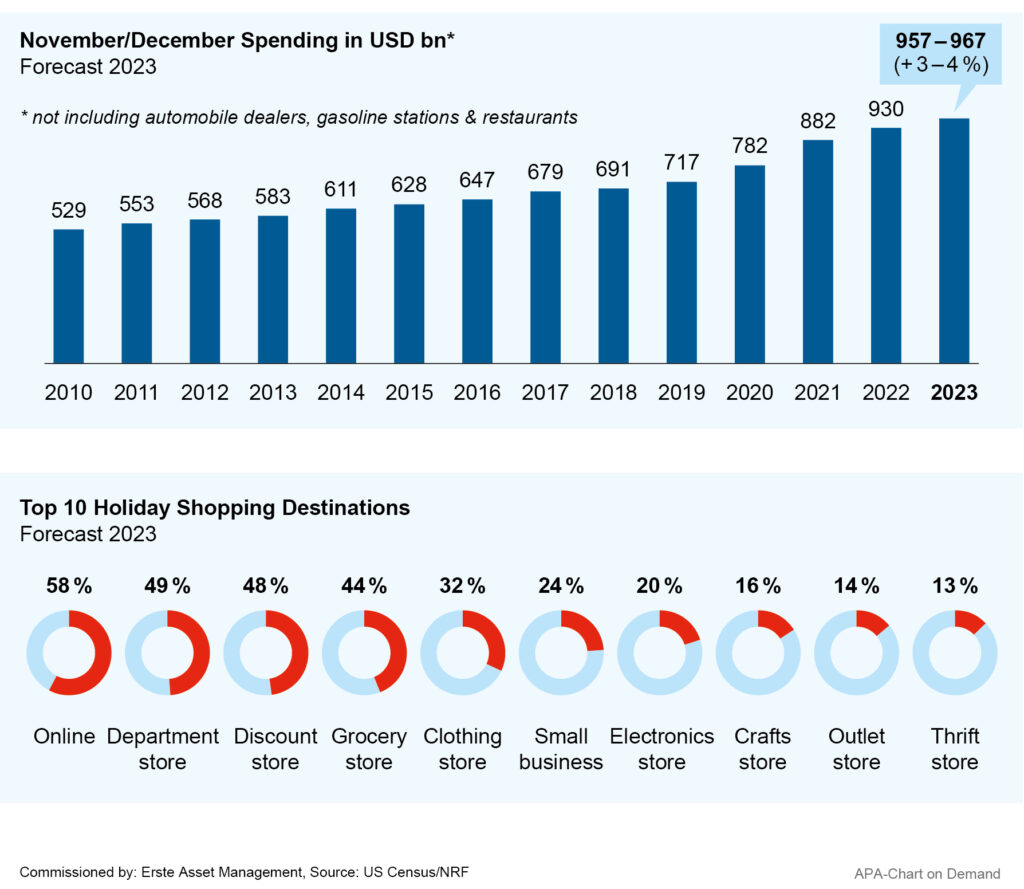 As of 06.11.2023; Note: Past performance is not a reliable indicator for future performance. Prognoses are not a reliable indicator for future performance.
Not only retailers, but also the stock markets are hoping for strong holiday business in the US. Unlike in more export-orientated countries, domestic consumption is a crucial factor for the world's largest economy. The retail sector plays a special role here, and holiday sales in particular. The latest retail data gives further cause for optimism. In September, US retail sales rose by 0.7 per cent compared to the previous month, significantly more than expected.
According to Deloitte and NRF, the solid labour market now also gives hope for strong holiday business. According to an opinion poll commissioned by the NRF, Americans intend to spend an average of around USD 875 on gifts, food and decorations for Christmas this year, 42 dollars more than last year.
Growth rates in holiday sales expected to return to pre-pandemic levels
According to Deloitte and NRF forecasts, sales are therefore likely to reach record heights again, although growth rates will be significantly more moderate than in the previous year. The Deloitte experts attribute this to lower price increases, while the savings accrued during the pandemic are also likely slowly running out.
The NRF analysts see the more moderate growth rates as a return to normality after the shopping boom during the pandemic driven by the stimulus package. According to NRF figures, holiday sales growth averaged 3.6 per cent in the years from 2010 to 2019.
Continuing boom in online retail sales
Online sales are also expected to reach new record levels, increasing online's share of overall business further. According to the NRF opinion poll, 58 per cent of Americans intend to do their Christmas shopping online this year. The boom in online retail during the Covid lockdowns very likely had a lasting impact on consumer behaviour, according to the NRF experts.
The NRF forecast model shows growth in sales outside physical shops of between 7 and 9 per cent to between USD 274bn and 279bn for the holiday season. Deloitte predicts an increase in e-commerce of 10.3 to 12.8 per cent to USD 278bn to 284bn for November to January. The market researchers at Adobe Analytics expect online sales to increase by 4.8 per cent to around USD 222bn between November and December.
According to the Adobe data, consumers are likely to spend more money via mobile devices than via desktop devices for the first time. The bottom line is that the share of online sales is likely to increase in almost all key product categories, with only clothing expected to see something of a return to the in-store shopping experience.
According to Adobe, this year's online boom is likely fuelled by special offers with record discounts and flexible payment options. "Buy now, pay later" has become mainstream, according to the Adobe experts. In addition, discounts are at unprecedented levels. During Cyber Week alone special offers are expected to generate online sales of 37.2 billion for retailers – 5.4 per cent more than in the previous year.
Expected top sellers: Lego, Barbie, PlayStation, iPhones – and Birkenstock sandals
Adobe expects the strongest special offers for toys, electronic products and clothing. Accordingly, Adobe analysts expect toys such as Lego or products tying into the Barbie film, games consoles such as Sony's PlayStation 5 and Xbox as well as the iPhone 15, headphones and e-readers to be among this year's holiday business bestsellers.
This year's Adobe list also includes Birkenstock sandals among the expected bestsellers. The shoes made by the long-standing company based in Germany have recently become really hip in the US. The Barbie film, in which the iconic main character wears Birkenstock sandals in several scenes, also contributed to the surge in popularity. The shoe manufacturer's owners recently capitalised on the Barbie hype with an IPO and floated Birkenstock shares on the New York Stock Exchange in October.
How to invest in the US stock market?
ERSTE RESPONSIBLE STOCK AMERICA includes some of the largest and highest-turnover US consumer goods companies. The fund invests exclusively in the US equity market. In addition, the responsible sustainability criteria of Erste Asset Management apply to the investment process. The fund is therefore suitable for investors who wish to invest in the US equity market in a sustainable manner. Please note, however, that investing in securities involves risks as well as opportunities.
Notes ERSTE RESPONSIBLE STOCK AMERICA
Advantages for the investor
Broadly diversified investment in North American stocks (US and Canada).
Participation in ecologically, morally and socially operating companies.
Active stock selection based on fundamental criteria.
Opportunities for attractive capital appreciation.
Risks to be considered
The price of the funds can fluctuate considerably (high volatility).
Due to the investment in foreign currencies, the fund value can fluctuate due to changes in the exchange rate.
Capital loss is possible.
Risks that may be significant for the fund are in particular: credit and counterparty risk, liquidity risk, custody risk, derivative risk and operational risk. Comprehensive information on the risks of the fund can be found in the prospectus or the information for investors pursuant to § 21 AIFMG, section II, "Risk information".
For further information on the sustainable focus of ERSTE RESPONSIBLE STOCK AMERICA as well as on the disclosures in accordance with the Disclosure Regulation (Regulation (EU) 2019/2088) and the Taxonomy Regulation (Regulation (EU) 2020/852), please refer to the current Prospectus, section 12 and the Annex "Sustainability Principles". In deciding to invest in ERSTE RESPONSIBLE STOCK AMERICA, consideration should be given to any characteristics or objectives of the ERSTE RESPONSIBLE STOCK AMERICA as described in the Fund Documents.
For a glossary of technical terms, please visit this link: Fund Glossary | Erste Asset Management
Legal note:
Prognoses are no reliable indicator for future performance.