China's strict zero-covid policy and the related lockdowns in many cities have recently put a significant damper on the rapid economic recovery of the world's second-largest economy. Millions of Chinese have been on lockdown for weeks, particularly in the country's northeast and in the business hub of Shanghai, home to many foreign companies and the country's largest port. The rigorous quarantine measures are bringing production facilities to a standstill, disrupting supply chains, jeopardizing jobs – and thus demand – and slowing down global freight traffic.
After more than two years of successful pandemic control in China, the highly contagious Omicron variant of the virus made new lockdowns necessary this year, as the country intends to adhere to its zero-tolerance policy measures despite growing popular discontent and economic costs.
China's government justifies the unwavering course by citing the country's large population, high percentage of senior citizens and inadequate medical resources. Strict quarantine measures, the sealing off of entire cities and mass testing are therefore intended to prevent any infection. In Shanghai, for example, regular testing of all residents is mandatory, and a single positive Omicron case often leads to mass quarantine of an entire apartment block.
Economists Lower Growth Forecasts
China's rapid economic recovery after the slump following the outset of the pandemic could accordingly soon come to an end. In April, the International Monetary Fund (IMF) slashed its growth forecast for China for the current year to 4.4 per cent. The rating agency Fitch recently lowered its forecast to 4.3 per cent from the previous 4.8 per cent, indicating that growth would thus be well shy of the 5.5 per cent target proclaimed by China's government.
Beginning economic consequences of the lockdowns are already clearly noticeable. China's statistics bureau reported a sharp slowdown in manufacturing activity on Monday. Where, in March, an increase of 5.0 percent was still recorded, the country's output shrank by a surprising 2.9 per cent year-on-year in April. Analysts had been expecting a stagnation only.
This also affects the production facilities of foreign companies, above all car manufacturers. For example, the US electric car manufacturer Tesla halted production in Shanghai for several weeks, with car sales plummeting. Passenger car sales fell to just 1.04 million in April – down 36 per cent from the same month in the previous year and the lowest level in two years. China is the world's largest car market and therefore an important sales market for many international automotive groups.
German mechanical engineering companies based in China are increasingly pessimistic about the situation. In a recent survey by the VDMA industry association, only 27 per cent of the 850 companies surveyed see the situation as good. 28 per cent rated it as poor and 45 per cent as satisfactory. According to the VDMA, this is the first time in two years that negative assessments have outweighed positive ones.
Lockdowns Affecting International Freight Traffic
The piling up of cargo ships in the port of Shanghai is also likely to have a massive impact on international companies. According to estimates, the export volume of the world's largest port has already fallen by around 40 per cent.
"German industry fears disrupted production processes in the coming weeks. The sectors most affected are those that rely on raw material or construction component deliveries and the shipment of their finished products via sea transport," Siegfried Russwurm, president of the Federation of German Industries (BDI), told Deutsche Presse-Agentur (dpa). The impending shutdown of the world's largest container port is completely upsetting global container shipping and international supply chains, Russwurm said.
But not only has sea transport has slowed down significantly – truck traffic, which is important for China's supply chains, is also stalling. As a result, the holding time of imported containers at the port of Shanghai has increased by 210 per cent since April, according to data from industry service Project44. Project44 experts attribute the long waiting times to a lack of trucks that can pick up containers from retailers in time. As a result, supply chains are suffering and even in parts of the country not affected by the lockdowns, assembly lines are sometimes at a standstill.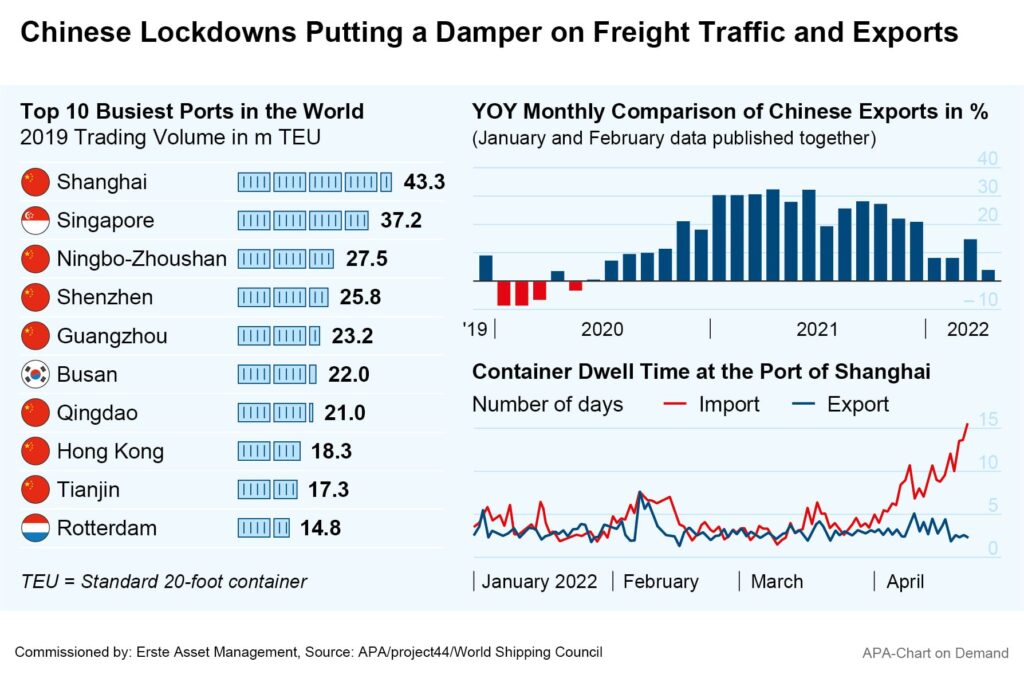 The production stoppages and more difficult transport conditions are also having a severe impact on China's export economy. The country's exports increased by only 3.9 per cent in April year-on-year. This is the slowest growth since June 2020 at the outset of the pandemic. Nor can the retail sector serve as a growth engine: China's consumption shrank by 11.1 per cent year-on-year in April, according to the latest data. Analysts had expected a reduction of only 6.1 per cent.
As a result, China is becoming less attractive to international investors. About half of US companies have postponed or reduced investments, according to a recent survey by the US Chamber of Commerce. In a survey by the EU Chamber of Commerce, 78 per cent of the companies surveyed said China has become a less attractive investment destination for them because of the anti-pandemic measures.
Government and Central Bank Plan to Introduce Countermeasures
China's central bank now wants to take countermeasures and provide greater support for the economy. The People's Bank of China wants to maintain an appropriate level of liquidity, prioritize stability and employ measures to boost confidence. However, it will not resort to indiscriminate large-scale stimulus measures and will keep the approach within reasonable bounds, the central bank said.
The government recently announced the prospect of increased aid for industry, as well as small businesses, with refunds of value-added tax credits to qualified businesses to be made before July, it said at a meeting of the State Council in early May. Additionally, more financial support will be provided, the government said. To this end, banks will be asked to extend the repayment of loans and exempt small firms from interest on late payments.
Furthermore, the government announced increased support for the foreign trade sector, which employs millions of people, with increased focus on securing foreign orders. The exchange rate of the national currency, the yuan, is also to be kept stable and more loans are to be granted to trading companies. In addition, the government wants to promote healthy development of the real estate market and ensure stable functioning of the capital markets.
CONCLUSION: The resurgence of the Corona virus is taking its toll on China's economy. Exports are growing at the slowest pace since the beginning of the pandemic, and freight traffic has plummeted. International investors are turning their backs on the country. Now the Chinese government wants to take countermeasures.
For a glossary of technical terms, please visit this link: Fonds-ABC | Erste Asset Management
Legal note:
Prognoses are no reliable indicator for future performance.