Many investors are opting for long-term capital accumulation by taking out a fund savings plan. This usually involves building capital by making monthly payments towards a selected investment fund over a longer period of time.
Falling share prices on the equity markets most often also result in losses to the capital paid into funds. Investors then often question their actions, fail to pursue the original strategy of long-term capital accumulation, and terminate the fund savings plan. In retrospect, this often turns out to be a mistake, as the financial markets have repeatedly recovered from crises in the past and the investment goal could have been achieved with the appropriate perseverance.
In the following we would like to give you a few tips that can help to get through difficult times – or in simple terms, "just hang in there".
Here are our tips at a glance:
Think long-term
Invest only capital that is not needed in the short term
Expect and plan for periods of falling prices
Do not get influenced by market events
Do not look at the portfolio all the time
1. Strategy: think long-term instead of short-term (no constant "in and out" strategy)
If you decide on a fund savings plan with a monthly deposit of, for example, EUR 100, you should be aware right from the start that it is not possible to get rich quickly with this strategy.
Rather, the aim is to save a fixed amount each month over many years. If the price of the selected fund falls but the monthly savings amount remains the same, more fund share units are bought automatically.
But how long does a long-term investment strategy take if the investment is built up in monthly tranches? Let's take a look at the development of the global equity market over the past 30 years and find out whether a period of five years, which is popular investment horizon among retail investors, is sufficient to invest sensibly in the equity market.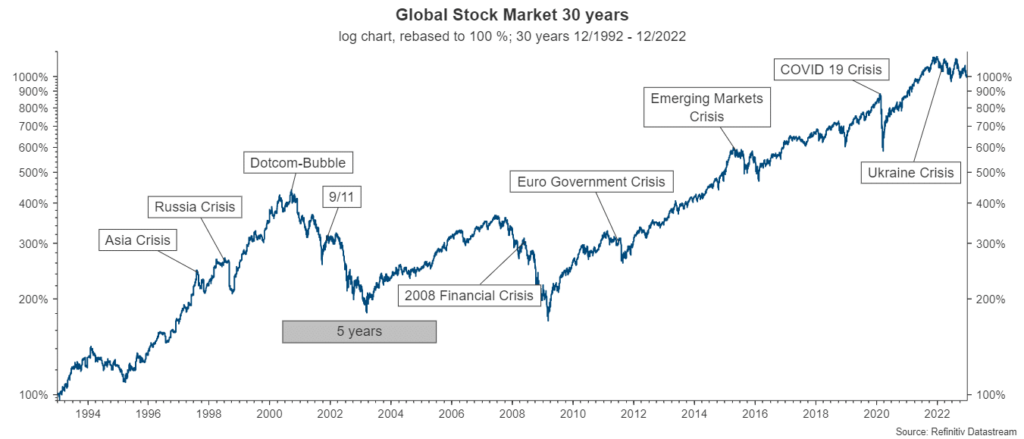 The long-term chart illustrates how the equity market has performed over the past 30 years. There have always been prolonged share price increases, as well as crises that have to significant losses on the financial markets.
In the chart we have placed a grey box for comparison purposes, which simply shows a five-year horizon within the longer period of 30 years. With such a short interval, it is very difficult to find the right time for personal investment.
Investors who want to invest in a high-risk investment and only have five years available should first ask themselves this:
"As a 'non-professional', will I manage to catch a period in such a turbulent market where I can expect to achieve at least a positiv return?"
With a rather short investment period, it will be very difficult to answer this question in the positive. Perhaps the better – and rational – question would be:
"What should my investment horizon be for me to be able to ride out the odd slump on the market?"
It might be advisable to take another look at the above chart. The following rule of thumb could be used:
Recommended minimum holding period x 2 (since with fund savings the capital is built up slowly and the last deposit is only made at the end).
2. Invest only capital that is not needed in the short term
Let's assume that an investor has chosen a fund savings plan with a monthly deposit of EUR 100. How much capital is that over time?
After five years: EUR 6,000 (12 x 100 x 5 years)
After ten years: EUR 12,000 (12 x 100 x 10 years)
Irrespective of this investment strategy, there should always be sufficient reserves in a savings book or savings account. Then you are also prepared for unplanned events, such as the repair of the car or the purchase of a new refrigerator and do not have to fall back on the invested capital.
The conclusion is therefore:
You should allocate only that part of your capital to risky investments which you can spare for a (good) while. And you should also be prepared to lose a smaller or larger part of it without endangering your standard of living.
3. Expect and plan for periods of falling prices
Falling prices on the financial markets are the rule, not the exception. The time at which these occur is unpredictable. Particularly if you have opted for a monthly savings plan in an equity fund, for example, phases of falling prices can also offer an advantage. Because for the capital paid in, you will receive a higher number of fund shares during the period of low prices.
An important aspect for your own investment planning:
Risky investments are subject to strong fluctuations both ways, i.e. up and down. However, solid investments have always recovered in the past.
If you have an investment horizon of 10, 15 or 20 years, a sudden short-term price decline is not really relevant.
4. Do not get influenced by market events
Every investment should serve a specific purpose and thus be carried out with a plan – an investment strategy. In addition to the selection of the appropriate investment instrument (e.g. a global equity fund) and an investment period that makes sense, the size of the position within your own portfolio also plays an important role.
Or simply put: "The investment must suit me!"
Then even temporary market events should have little or no impact on the personal investment strategy.
5. Do not look at the portfolio all the time
It is important to make conscious investment decisions. And you should also know that you cannot influence or control all aspects of investment.
You cannot influence price movements on the financial markets. It is therefore pointless to look at the price trend of your investment every day
If you are pursuing a long-term strategy, you should also give your investment sufficient time and leeway in terms of price fluctuations.
Conclusion
In addition to opportunities, every investment in the financial market comes with opportunities AND corresponding risks. These go beyond purely financial aspects. Price fluctuations strongly affect how we feel about our investment.
Particularly sharp price declines often lead to hasty decisions. Perseverance and "sticking it out" is then very often the most difficult aspect of personal investing. It is important to choose an investment strategy with which one feels comfortable in good and bad investment times.
Anyone who has opted for long-term fund savings by means of monthly payments has already defined an appropriate investment strategy for themselves.
Note: Please note that an investment in securities also entails risks in addition to the opportunities described.
For a glossary of technical terms, please visit this link: Fund Glossary | Erste Asset Management
Legal note:
Prognoses are no reliable indicator for future performance.