One thing is beyond discussion: sustainable investing has long since become respectable and shed its initially slightly alternative image. In the past five years alone, the volume of sustainable mutual and special funds in Austria has more than quadrupled[1].
The boom in green securities is not only due to the increased environmental awareness of private and institutional investors, but also to their positive performance: funds that take into account environmental, social, and corporate governance parameters, i.e. the so-called ESG criteria, when constructing their portfolios have in some cases significantly outperformed "normal" funds in recent years. This is also illustrated by comparing the sustainable and broadly diversified Article 8 equity fund ERSTE RESPONSIBLE STOCK GLOBAL with the well-known MSCI World Net Total Return index.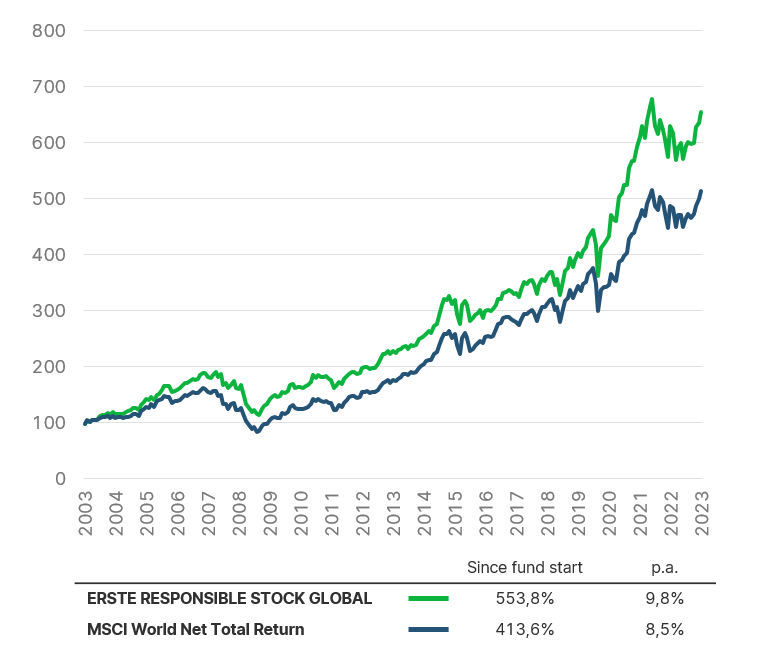 Green wave: sustainable funds have recently outperformed their traditional competitors. Source: Erste Asset Management, gross performance at the end of 07/2023. Please note: the indices mentioned were only used for comparison and have no bearing on the discretion of the management company in the selection of assets. Past performance is not indicative of the future development of a fund.
Five key drivers of sustainable investment
As successful as the past few years have been, the future is sometimes viewed with a critical eye:
Will sustainability remain in focus or is the environment for sustainable investments increasingly dire as other issues are (becoming) more "urgent"?
What if climate change deniers gain the upper hand?
Gerold Permoser, Chief Investment Officer at Erste Asset Management counters this: "Sustainability and ESG are here to stay, they will continue to play an important role in the future." Asked about the reasons for his confidence, Gerold Permoser explains: "From our point of view, there are above all five medium- to long-term key drivers that make the case for sustainable investments."
Driver no. 1: Changes in the political economy
While the order of economic policies was quite clearly regulated in the past, things are currently changing – from attitudes to inflation to the changing role of the state in the economy. Companies are also expected to do more than in the past: merely generating profits is not enough. They also have to assume social responsibility. All this has led to ESG becoming a central issue at both the corporate and the state level in recent years. In addition, Brussels has given out strict requirements to pave the way for the EU's ambitious climate targets. "We do not expect this to change again any time soon. Rather, the financial power of the states alone will not be sufficient to tackle global decarbonisation. We will continue to need the private sector for this," Gerold Permoser summarises.
Driver no. 2: The supply chain situation
The outbreak of the Corona pandemic has shown how fragile and complex supply chains can be. This is precisely why it is important to monitor them closely and optimise them, also with regard to sustainability. After all, risks can lie dormant along a company's supply chain that lead to environmental damage or social problems – from non-compliance with labour laws and loophole-ridden environmental regulations to a lack of ethical standards. In this area, too, the EU is putting on the pressure and setting the pace: the planned EU Supply Chain Act is to get companies to commit to carefully dealing with environmental and social aspects in the entire supply chain, including their own business area. Companies need to proactively develop strategies to address these challenges and build a resilient supply chain.
The importance of this topic is exemplified by the "China globalisation story", as Gerold Permoser summarises. A paper from Harvard University analysed how China manages its state sector. One of these strategies is to commit foreign companies to Chinese standards. What happens when these values collide with another value system? What if companies no longer want to be part of the Chinese state economy? Or when their customers and investors want something different from them? Difficult questions already arise here, if we take the example of cotton or the processing of cotton. If a company publicly declares that it does not want to process cotton from Xinjiang because Uyghur forced labour could be involved, it has to expect repression from Beijing. However, if one does not take this into account, one could be excluded from ESG funds for the same reason.
Driver no. 3: Demographic change
The fact that the baby boomers of the 1960s are gradually retiring comes with a massive impact on the labour market. The search for suitable replacements is becoming increasingly difficult for companies. In the fight for the best talent, companies must therefore become more attractive and position themselves more diversely and broadly. This includes, for example, measures that address the work-life balance, alternative leadership concepts, and the elimination of the gender-pay gap. Many substantial ESG issues will keep companies busy in the coming years if they want to prevail in the market.
Driver no. 4: Technological revolution
From photovoltaics to wind power: the expansion of renewable energies is one of the crucial tools in the fight against climate change. In this process, more and more new environmental technologies will be available that are currently under development. For example, green hydrogen will play an important part in the future due to its transport and storage properties; as will smart grids, intelligent electricity networks that connect small, local grids with the existing infrastructure. They help to avoid peak loads and thus become increasingly important in decentralised energy production. With ESG investments, investors will also be able to benefit from this technological progress in the future.
Driver no. 5: Climate change
The fifth driver for sustainable investments is climate change itself. "Current natural disasters show that climate change has reached the heart of society worldwide and has a strong impact on our daily lives," Heinz Bednar points out. The more frequent severe weather events also pose an economic and financial risk. Crop failures cause higher food prices and thus higher inflation rates. In the future, it will therefore be common practice to include climate forecasts in the financial market outlook. Companies that prepare for these challenges also minimise climate-related financial risks.
Green investments to change the world
In conclusion, Heinz Bednar and Gerold Permoser encourage people to see sustainable investment as an effective tool for a more liveable world: "As insignificant as it may seem to oneself, every single decision in favour of a green investment is relevant." According to the two financial experts, the trend towards sustainable investment is already having an effect: "As investors put more and more money into sustainable companies, they also have an incentive to meet growing sustainability standards. This fundamental change with respect to the flow of capital is generating significant changes across entire industries towards sustainability."
Sustainable pioneer for more than 20 years
As the largest provider of sustainable funds in Austria and one of the most important sustainable investment companies in Germany and Switzerland, Erste Asset Management manages a sustainably invested volume of EUR 16.6bn (as of 31 July 2023).
The minimum ethical standards of all Erste AM mutual funds call for:
no controversial weapons
no food speculation and
no investments in coal.
When selecting assets for the various funds, Erste Asset Management applies strict selection criteria from all angles of sustainability: environmental, social, and corporate governance data, i.e. the so-called ESG criteria, are used to establish an ESGenius rating created specifically for this purpose. The rating forms the basis for the assessment of companies. An additional best-in-class approach ensures that the most sustainable companies are selected in each industry.
Our green commitment and the associated know-how are also reflected in objective assessments: for example, the sustainability and ethical range of funds of Erste Asset Management received several awards from Forum für Nachhaltige Geldanlagen e.V. (FNG; Forum for Sustainable Investment) in 2022. All 16 funds submitted by Erste AM received the FNG Seal, one of the most important awards for sustainable investment funds in the German-speaking world. In addition, all funds submitted were awarded the top mark, i.e. a three-star seal of approval.
Risk notes ERSTE RESPONSIBLE STOCK GLOBAL:
For further information on the sustainable focus of ERSTE RESPONSIBLE STOCK GLOBAL as well as on the disclosures in accordance with the Disclosure Regulation (Regulation (EU) 2019/2088) and the Taxonomy Regulation (Regulation (EU) 2020/852), please refer to the current Prospectus, section 12 and the Annex "Sustainability Principles". In deciding to invest in ERSTE RESPONSIBLE STOCK GLOBAL, consideration should be given to any characteristics or objectives of the ERSTE RESPONSIBLE STOCK GLOBAL as described in the Fund Documents.
Advantages for the investor
Broadly diversified investment in equities in developed markets.
Participation in ecologically, morally and socially operating companies.
Active stock selection based on fundamental criteria.
Opportunities for attractive capital appreciation.
Risks to be considered
The price of the funds can fluctuate considerably (high volatility).
Due to the investment in foreign currencies, the fund value can fluctuate due to changes in the exchange rate.
Capital loss is possible.
Risks that may be significant for the fund are in particular: credit and counterparty risk, liquidity risk, custody risk, derivative risk and operational risk. Comprehensive information on the risks of the fund can be found in the prospectus or the information for investors pursuant to § 21 AIFMG, section II, "Risk information".
Legal note:
Prognoses are no reliable indicator for future performance.
For a glossary of technical terms, please visit this link: Fund Glossary | Erste Asset Management
---
[1] Market report Sustainable Investments 2023, Forum Nachhaltige Geldanlagen e.V. (Forum for Sustainable Investment