"Change is the only constant in life", said the Greek philosopher Heraclitus of Ephesus (535 – 475 BC) hundreds of years ago. Or, a more contemporary quote could be : "Nothing is as constant as change." And that is also true for the equity market. Every price increase is followed by a market correction.
Often, such corrections are perceived as "bad", as they curb the gains achieved so far or even result in losses. But don't such price declines also offer opportunities?
In this article, we want to discuss the opportunities and risks of investments in dividend shares that arise from major falls in price and present an entry strategy for this market segment.
The equity market fluctuates – constantly
In order to make the fluctuations of the global equity market tangible, it makes sense to look at a longer time series.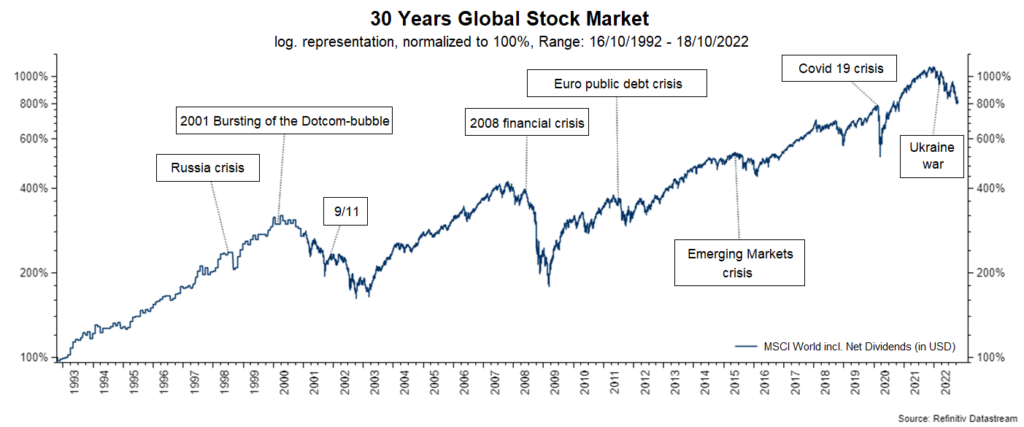 The long-term chart illustrates two aspects very clearly:
Major slumps occur regularly
In the long term, these price declines have been recovered
Of course, it is not possible to directly derive a course of action for the future from historical price data. However, for those who believe in the future of the companies in question and thus in the equity market, downturns represent opportunities to buy high-quality shares.
What are high-quality companies?
During crises, investors often prefer companies with a proven business model that can generate profits even in difficult times. Such companies can also pay attractive dividends in difficult market phases.
However, it should always be borne in mind that any company can get into difficulties during a crisis. It therefore makes sense to diversify the investment e.g. across sectors and countries. This is the case for dividend equity funds.
When is the right time to invest?
It is advisable to only invest in equities if one assumes that the planned investment can survive difficult times. A crisis usually leads to a decline in share prices. So, what could be more obvious than to use significant corrections on the equity markets to build up positions? Catching the lowest price during a correction would be a matter of pure luck. Also, many investors easily lose the courage to buy into a falling market.
If pure luck is not your friend, you need a pre-defined entry strategy. This should answer the following questions:
What investment (target)?
What amount?
How far should prices come down for you to invest?
How should the investment be made (one-off investment or repeated, smaller amounts)?
A possible entry strategy
As mentioned earlier, the duration and extent of price corrections cannot be predicted. In the literature, a fall in share prices of 20% or more is referred to as a bear market. Assuming that every bear market ends at some point, a possible strategy would be the following one:
Split the total investment amount into twelve tranches
Invest monthly over the following twelve months
Initiate purchases at the outset of the bear market once prices have decreased by 20% from the peak
While such a gradual entry strategy will not result in the absolute low in terms of entry (which would theoretically be possible with a one-off payment), at least part of the capital is invested at lower prices.
Why choose dividend equity funds?
We only know the duration and extent of a market correction at hindsight. If it were to last longer than expected, investments with regular payouts would at least provide an incentive to hold out in difficult times.
A dividend equity fund offers some essential aspects in this context:
Selected companies with a stable business model
Regular income in the form of dividends means regular income in the fund
Broad diversification
ERSTE RESPONSIBLE STOCK DIVIDEND is an investment opportunity worth taking into consideration here. For more information on the fund and ways of investing, please refer to the fact sheet and the legal documents of ERSTE RESPONSIBLE STOCK DIVIDEND or visit an investment advisor at any branch office of Erste Bank or Sparkassen in Austria.
Conclusion
For investors with a defined investment strategy, falling prices in the market can also offer opportunities. Dividend equity funds with a broad diversification can be a viable investment option in phases of an extended market correction. However, one should be aware that every type of investment entails risks. Investors should therefore be conscious of said risks and have a correspondingly long-term investment horizon.
Risk notes for ERSTE RESPONSIBLE STOCK DIVIDEND
The fund employs an active investment policy and is not oriented towards a benchmark. The assets are selected on a discretionary basis and the scope of discretion of the management company is not limited.
For further information on the sustainable focus of ERSTE RESPONSIBLE STOCK DIVIDEND as well as on the disclosures in accordance with the Disclosure Regulation (Regulation (EU) 2019/2088) and the Taxonomy Regulation (Regulation (EU) 2020/852), please refer to the current Prospectus, section 12 and the Annex "Sustainability Principles". In deciding to invest in ERSTE RESPONSIBLE STOCK DIVIDEND, consideration should be given to any characteristics or objectives of the ERSTE RESPONSIBLE STOCK DIVIDEND as described in the Fund Documents.
For a glossary of technical terms, please visit this link: Fund Glossary | Erste Asset Management
Legal note:
Prognoses are no reliable indicator for future performance.