Despite inflation and economic worries, the leading IT companies have recently reported significant increases in sales and earnings for their past fiscal quarters. On the revenue side, the booming and lucrative cloud business was the main growth contributor. Microsoft and Google parent Alphabet want to invest the billions in profits from their core businesses largely in artificial intelligence, making them leaders in the field.
A long-time leader in the cloud business, Amazon reported a surprisingly strong increase in sales for its first quarter, with revenue growing 9 per cent year-over-year to USD 127.4bn. The growth driver was the cloud business, where sales increased significantly by 16 per cent to USD 21.4bn. Operating profit thus increased by around 30 per cent to USD 4.8bn.
Microsoft also exceeded market expectations thanks to its strong cloud business. Q1 sales exceeded expectations by a factor of two, increasing by 7 per cent to USD 52.9bn, with the Azure cloud subdivision growing by 27 per cent. With earnings of USD 2.45 per share, Microsoft's bottom line also beat the forecasts that had predicted USD 2.23.
Finally, increasing revenues from its cloud business also gave Alphabet a tailwind. Sales for Google's parent company rose impressively to USD 69.8bn in early 2023. Of this, USD 7.454bn came from the cloud division, which grew by around 28 per cent. Additionally, earnings exceeded expectations at USD 1.17 per share.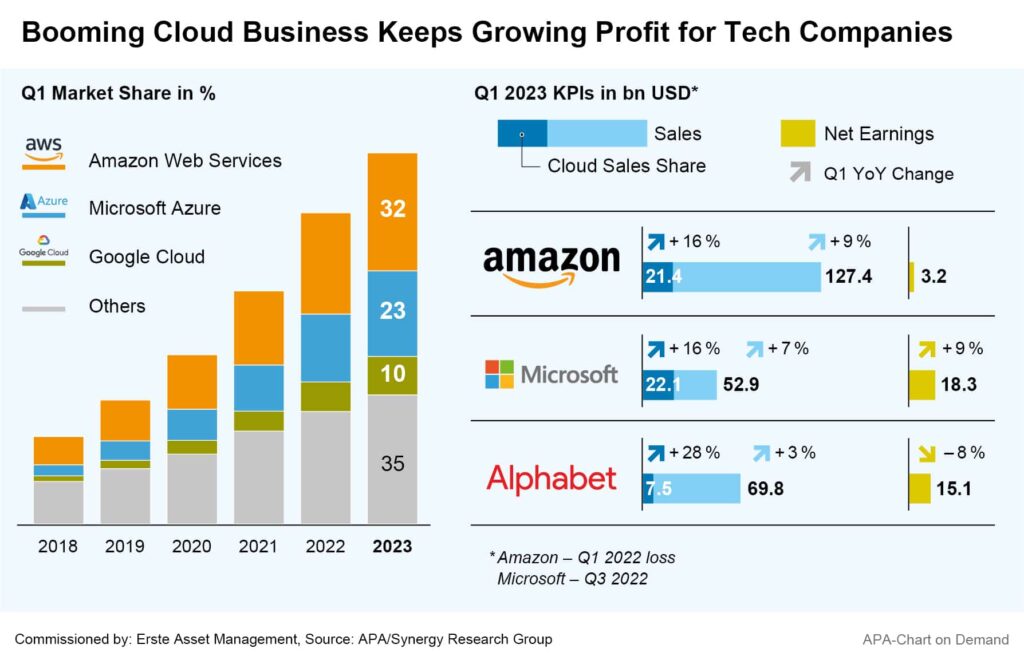 Companies present strategies on Artificial Intelligence (AI)
Given the explosive development of AI services, markets were eagerly awaiting announcements regarding the IT giants' strategies for their AI business. After last year's release of the ChatGPT chat bot by Microsoft's OpenAI holding shook up the tech industry and made headlines, expectations are high for the big IT companies, with developments shaping up into a race between industry giants Google and Microsoft. Both companies want to invest the billion-dollar profits from their core business in AI in order to secure their respective leadership in the field. What exactly is behind the technology of ChatGPT, explains fund manager Bernhard Selinger in this article.
Alphabet merges AI divisions and announces new functionalities
Alphabet plans to combine its two research divisions Google Brain and DeepMind for AI development and has recently announced a massive upgrade of its services with artificial intelligence. In addition to the search engine itself, other applications such as GMail and Maps are also to receive new functions, said group CEO Sundar Pichai at a Google developer conference last Wednesday.
Among other things, Pichai demonstrated how software can compose a letter for users. He also showed how users in Google's Photos app will not only be able to remove unwanted objects and people, but also, for example, change their own position in the image. When writing a story, the software should be able to provide suggestions for further story twists and automatically generated illustrations.
There are significant innovations in Google's most important product – the internet search. Using AI, the search engine will be able to answer questions such as which of two nature parks is more suitable for a family with children and a dog. The answers are formulated in complete sentences, and the usual Internet links are also provided. When searching for a bicycle, in addition to advice, such as to pay attention to the wheel suspension, suitable offers from dealers are also displayed.
Google still does most of its business with ads in the Internet search environment. Mostly, advertisers pay for their links to search queries to be displayed at the top of the screen. At present, what impact the spread of detailed answers based on artificial intelligence will have on this business model remains a matter of speculation.
Microsoft plans to further upgrade its search engine and browser with Artificial Intelligence
Microsoft also wants to equip its Bing search engine and Edge browser with further AI functionalities, Microsoft manager Yusuf Mehdi announced in a blog entry last week. So far, Microsoft has provided a text-based AI offering, i.e. a text search and a chat bot. Going forward, the AI system will also deliver visual search results on the Microsoft search portal Bing or in the Microsoft Edge browser.
For example, when searching for the correct swing technique for skiing, users will not only receive a text answer, but also a matching video. For knowledge questions such as the color of the planet Neptune, not only does the text explain why certain components of Neptune's atmosphere absorb red light and therefore make the planet appear blue; the phenomenon is also explained visually with photos or videos.
The technology used by Microsoft is based primarily on the GPT-4 language model, which was just recently presented to a wider public in mid-March by the start-up OpenAI. Microsoft has close ties with the small San Francisco-based company and has invested around USD 13bn in OpenAI, according to industry estimates.
Microsoft's pact with OpenAI pressures Google into making more of its own artificial intelligence developments publicly available. Google has been holding back, citing responsible use of the technology, and at Google I/O, the company recently reaffirmed this course. The company sees a danger that the software could reinforce prejudices or be used for the creation and dissemination of false information. To protect against this, Google suggests verifying the authenticity of files using metadata.
Conclusion
The world's leading tech companies reported significantly higher sales and profits in the past quarter. One reason for this is growth in the cloud business. However, many see the future primarily in the possibilities of artificial intelligence. Google's parent company Alphabet and software giant Microsoft are investing billions to lead the way in AI.
Both companies are also included in the ERSTE FUTURE INVEST portfolio, where they are among the largest positions. The fund focuses on global megatrends and covers a broad range of important future themes. These include health, technology, environment, lifestyle and economic forces in transition.
Risk notes
Please note that an investment in securities also entails risks in addition to the opportunities described.
Advantages for the investor
Participation in global, promising future topics ("megatrends").
Investment in an actively managed portfolio consisting of quality and growth stocks.
Risk diversification across multiple countries and industries.
Risks to be considered
The securities in the portfolio may be subject to increased price fluctuations.
Due to investments denominated in foreign currencies, the net asset value of the fund can be negatively impacted by currency fluctuations.
Capital loss is possible.
Risks that may be significant for the fund are in particular: credit and counterparty risk, liquidity risk, custody risk, derivative risk and operational risk. Comprehensive information on the risks of the fund can be found in the prospectus or the information for investors pursuant to § 21 AIFMG, section II, "Risk information".
For a glossary of technical terms, please visit this link: Fund Glossary | Erste Asset Management
Legal note:
Prognoses are no reliable indicator for future performance.