India has recently been in the spotlight of the world political stage as the venue of the last G20 summit. The summit is considered a success, not least for Indian Prime Minister Narendra Modi. In particular, the drafting of a joint summit declaration on climate protection in particular is a positive sign.
Shortly after the G20 summit, however, relations between India and the largest Western states deteriorated. This was due to the assassination of Hardeep Singh in Canada at the end of June. Singh was a leader of the Canadian branch of a movement that advocates an independent Sikh state in India (and is considered a terrorist group by India).
Canadian Prime Minister Justin Trudeau went to the press in mid-September with serious allegations, explicitly accusing the Indian state of involvement in the murder of Singh (a Canadian citizen). Unsurprisingly, this was sharply rejected by India; most recently, 40 Canadian diplomats were expelled from India with a deadline of 10 October.
So far, the Canadian Prime Minister has not provided any evidence for his claim, but observers suspect that extensive intelligence information (including via allies such as the USA) is available.
West recently aiming for better relations with India
For the West, this situation is a profound, geo-political problem: India is seen as a medium- to long-term, democratic counterweight to China, especially from an economic perspective. It is for this reason that the leading Western states are seeking positive cooperation. The Financial Times even speaks of a geo-political "all-in bet" by the West, especially by the USA, the United Kingdom, and Australia. The USA had recently improved relations with India by a significant degree and intensified cooperation in various economic and military areas. A state banquet was even held for Prime Minister Modi at the White House in June 2023 – a great diplomatic honour.
The UK is also striving to deepen relations and is currently negotiating a free trade agreement with India, the ratification of which would represent one of the greatest political successes of the British leadership after Brexit. Most of the political benefits go directly to the prime minister, as he is directly responsible for the economic success of the past years.
No interest in political escalation
For all these reasons, the murder and the accusations by Prime Minister Trudeau come at a totally inopportune time for all parties involved. The Western allies have no interest in a political escalation with India that could permanently damage the thaw. There is also always the risk that India could turn more towards Russia, for example.
In addition, the implementation of economic sanctions would also be very disadvantageous for the West, as this would mean an escalation with a third large economic area (after China and Russia), and as a consequence the West would increasingly isolate itself from relevant future markets. At the same time, the West would not be able to ignore India's involvement (if evidence were provided). Here, its credibility in upholding essential values and norms would be at stake.
As a result, a political ice age for a period of one to two years is probably the most likely response of the West, similar to the murder case of Jamal Kashoggi in 2018 (then at the Consulate General of Saudi Arabia in Istanbul). Here, too, political pragmatism prevailed: after an international outcry, high-ranking Western politicians are yet again talking to Crown Prince Mohammed bin Salman, who has since been appointed Prime Minister of Saudi Arabia.
Indian economy in good shape
Apart from these geo-political distortions, India is currently in good shape especially in macro-economic terms: in its current economic outlook (October 2023), the IMF expects Indian GDP growth of 6.3% for both 2023 and 2024. These are the highest growth rates within the G20 and, in particular, 1.3% and 1.9% higher than those of the "global growth engine", China.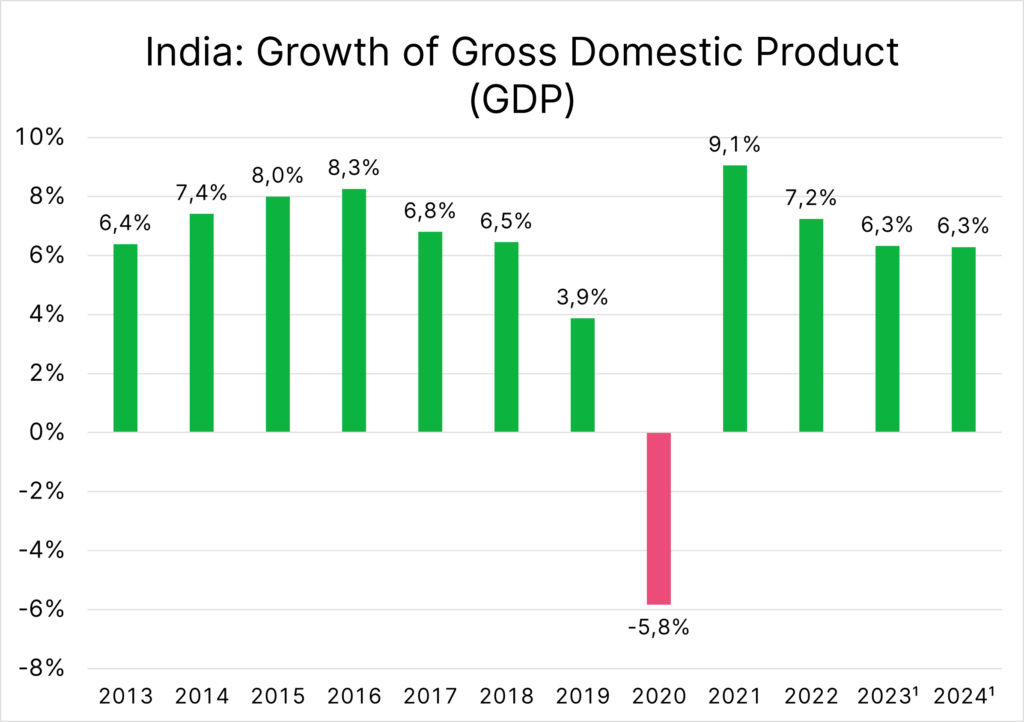 Source: Statista.com, IMF (N.B. 2023 and 2024 values are forecasts) Please note: past performance is no reliable indicator of future value development. Prognoses are not a reliable indicator of future performance.
In its latest detailed analysis of India (December 2022), the IMF notes that despite the existing challenges at the global level (citing the inflation problem, especially in the food and energy sectors), the political leadership has successfully implemented its reform plans in some areas.
Hopes are therefore that Prime Minister Modi has understood the signs of the times and does not dilute his obvious will to implement reforms in India with unnecessary acts that are not covered by international law.
For a glossary of technical terms, please visit this link: Fund Glossary | Erste Asset Management
Legal note:
Prognoses are no reliable indicator for future performance.