European Union Sustainable Finance Disclosure Regulation came into force on March, 10
The goal is to create more transparency for sustainability risks in financial investment products
Austrian Erste Asset Management has implemented EU Sustainable Finance Disclosure Regulation
The European Union sustainable finance disclosure regulation (SFDR) came into force on March 10, 2021. From this point on, all financial products, including investment funds, must be classified according to their sustainability. This is intended to create more transparency for sustainable investments in financial investment products.
The disclosure regulation of the European Union establishes new transparency rules on the effects of sustainability risks in financial investment products and adverse effects. Austrian Erste Asset Management (Erste AM) has adapted all relevant documents to the new transparency requirements.
Transparency requirements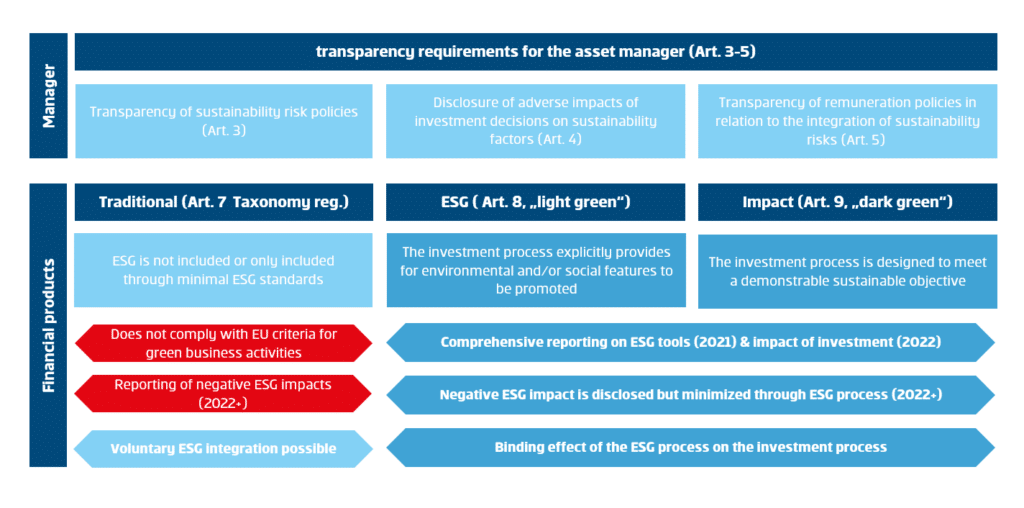 Sustainability risks in investment decisions
In order to meet the transparency requirements, Erste AM has adapted all relevant documents and published them on its website (for UCITS funds in the prospectuses, for AIF funds in the §21 document). The description of how sustainability risks are included in investment decisions, including an assessment of how they affect the respective product, is set out for all funds in the prospectus/§21 document.
In addition, further adjustments are made in the product-specific documents for sustainable funds in accordance with Articles 8 and 9 of the Disclosure Regulation (ESG annex in the prospectus, ESG information on the web factsheet, accountability reports with ESG reporting from 2022).
ERSTE AM funds and classification according to the Disclosure Regulation
Impact funds such as the ERSTE GREEN INVEST, invest directly in solutions for ecological and social challenges and are classified according to Article 9 of the EU Disclosure Regulation. The proven "ERSTE RESPONSIBLE" funds are recorded as Article 8 products in this scheme: They continue to meet the highest demands on sustainable investments and, in addition to the existing ESG reporting, will also meet the requirements of the Disclosure Ordinance.
For some time now, Erste AM has been consistently pursuing the path to make its product range even more sustainable. At the beginning of 2020, ESG criteria, which can improve the risk-adjusted return, were started to be integrated into funds that were previously managed in a traditional manner. The processes used can, for example, significantly reduce CO2 intensity, better map the quality of corporate management (governance) in the funds and minimize involvement in violations of international standards. We now also classify these funds as Article 8 products (ESG integration). For all other funds, we are continuously evaluating the possibilities of including even more ecological and social factors in the investment process.
About us:
About us: With a sustainably invested volume of over 15 billion euros (December 31, 2020) in more than 50 sustainable mutual funds and several special funds, Erste AM is the market leader in Austria in the sustainability sector. Erste AM also plays a pioneering role in the area of ethics and sustainability: Erste AM launched the first environmental equity fund back in 2001.
Legal note:
Prognoses are no reliable indicator for future performance.