The financial reality of Austrian women still does not look rosy in 2023. The still large gender pay gap, a high part-time rate and resulting lower pensions are factors in this development. However, women are aware of their financial circumstances and also want to do something about it – as an IMAS study by Erste Bank and Sparkassen on the occasion of International Women's Day on March 8 shows. One way for woman to take their financial situation into their own hands is investing through fund savings.
Financial independence more important for women
Austrian women want to change their financial situation. This is clearly reflected in this year's results of the IMAS study: 84% of Austrian women state that it is "very important" to them to be financially independent from other people. Unfortunately, this goal is not yet a reality for many women: Every fourth woman says she is financially dependent on her family – among men, the figure is only 12%.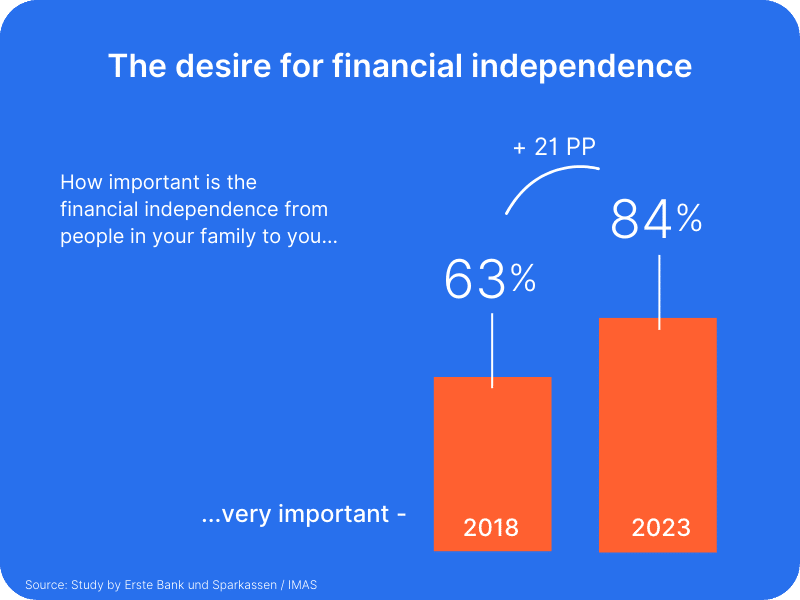 Security aspect in focus for women
For women, the focus is primarily on the issue of security when it comes to saving. This is also reflected in the product figures of Erste Bank and the savings banks: Compared to men, women prefer savings books and building savings accounts. The share of women is 52% and 54%, respectively. They are less likely to own securities accounts (47%) or an investment plan (45.3%).
Investments in particular can be helpful for income-oriented retirement planning. For example, long-term investments in funds can fill any income or pension gaps that may arise*. Since investing in mutual funds can also involve risks, it is important to know about them and learn how to deal with them. Our blog post, "Understanding the Risks of Funds – Nothing ventured, nothing gained" provides an overview of the main types of risks to be aware of before investing in funds.
*In the long run, investing in mutual funds has the potential for higher profits. However, it is important to keep in mind that mutual funds carry significantly higher risk than savings accounts.
Information counts: How do women start investing?
As the study also shows, there is often a lack of information when it comes to investing. While almost half of the men surveyed feel very well informed about financial topics, women are much more critical in their self-assessment: only 36% said they were very well informed about financial topics in general.
Especially those who want to take their finances into their own hands should be able to access the most important information quickly and easily so that they can make their own investment decisions. The search for securities and investment opportunities can quickly become overwhelming. Finding an investment fund that matches individual expectations is not always easy. With our fund search, you can filter the diverse range of products according to your own interests.
Fund savings: Step by step to financial independence
If you have decided to invest in securities, the first step is to determine the investment objective. Think about what you want to save for and how much you want to save. You can start investing in investment funds with as little as 50 euros a month. In the next step, select securities according to your risk tolerance. You can also open funds online via George.
In addition, especially newcomers to the subject of finance have many basic questions: How can I buy funds and where do I find them? You can find the answers to these questions about getting started in investing in our blogposts "Decision to invest taken – what happens next?" and "How can I invest my money wisely?".
For a glossary of technical terms, please visit this link: Fund Glossary | Erste Asset Management
Legal note:
Prognoses are no reliable indicator for future performance.