Summer is here, the New Year's resolutions have long since disappeared in the rearview mirror, and in the mirror there is only a hint of the longed-for beach figure to be seen. How nice it would be to get rid of the last stubborn five kilos by means of a miracle cure. Since 2022, semaglutide has been available on the market as just such a drug. Time for an interim assessment.
Semaglutide – the unexpected goldmine
With semaglutide, an active ingredient from the GLP-1 receptor agonist group, the Danish company Novo Nordisk actually only wanted to develop a drug for diabetes 2 patients that, in comparison to the similar liraglutide, has to be injected weekly instead of daily. However, animal studies already showed a strong appetite-reducing effect in addition to the expected insulin-regulating effect. In 2021, a double-blind study provided the first tangible evidence of weight loss in human subjects. Novo Nordisk shares subsequently chased from one high to the next.
A thick ethical dilemma
Unsurprisingly, the wonder drug with the brand name Ozempic was immediately consumed on a grand scale off-label (as it was only approved for diabetes-2) and from 2022 officially approved as Wegovy by the rich and apparently not-quite-beautiful. Since Novo Nordisk could not meet the massive demand with its production, it came to the ethically questionable situation that affluent Hollywood actors came to their injection, while financially weak diabetes patients had to wait for the potentially vital drug.
Obesity – no longer a luxury problem
Whereas obesity at the turn of the millennium was clearly a side effect of the over-saturated lifestyle in industrialized nations, today a large proportion of obese people live in developing countries. Particularly in Latin America and the Middle East, rising prosperity often brought with it a displacement of traditional eating habits in favor of convenience food. Wegovy will do little to remedy this situation, since it costs USD 1,300 and EUR 300 per month in the USA and Europe, respectively, if the costs are not covered by health insurance. Studies assume a minimum treatment period of one year for significant weight loss that is sustainable at least in the medium term.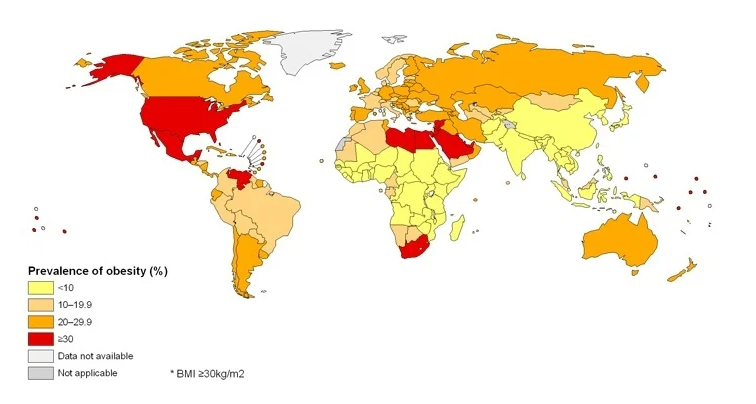 EMA reviews side effects
Semaglutide was not originally conceived as an all-purpose drug. Originally, risk assessments contrasted with the fight against diabetes-2, where the benefits clearly outweighed the risks. In addition to various gastrointestinal problems, which are usually more common at the start of treatment, the European Medicines Agency (EMA) is now looking into possible psychological side effects after two cases were reported in Iceland in which patients developed suicidal thoughts. Studies in mice also showed an increased risk of thyroid cancer, but this has not yet been established in humans.
Rude awakening for fitness and diet industries
Away from health risks, Wegovy is also causing economic upheaval. Already hard hit by the pandemic, the fitness industry faces an existential threat, especially if slimming drugs become much cheaper. The food industry is also looking at developments with growing concern. On the one hand, the growth market of low-calorie diet products is in danger. On the other hand, semaglutide does work by reducing appetite, thus causing a general reduction in consumption.
Since 2021, when semaglutide was found to reduce weight, Novo Nordisk's stock has more than doubled, while food giant Nestle hasn't budged and listed gym chain Planet Fitness has lost more than 10%.
Wegovy came into focus again only last week. Positive study data on the drug caused the Novo Nordisk share price to jump by more than 16%. The study showed that taking Wegovy reduced the risk of a serious cardiovascular event such as stroke by 20% in overweight or obese people with a history of heart disease.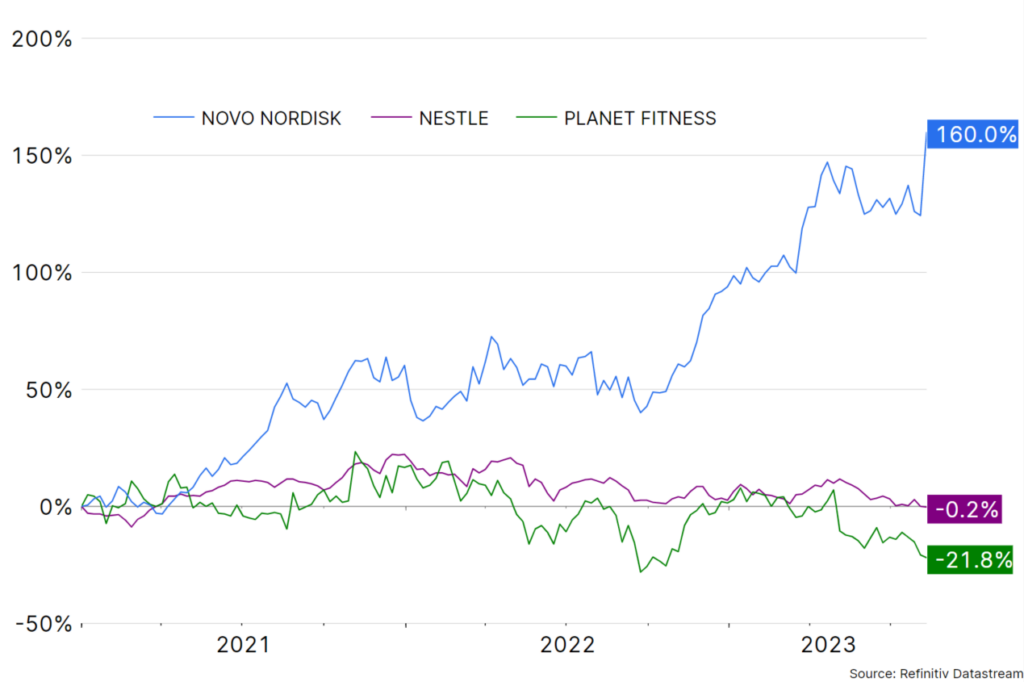 Source: Refinitiv Datastream; Chart is indexed (01.01.2023 = 0%); Note: Past performance is not a reliable indicator of future performance. Data as of 14.08.2023
For a glossary of technical terms, please visit this link: Fund Glossary | Erste Asset Management
Legal note:
Prognoses are no reliable indicator for future performance.