The economy in Japan is currently celebrating a much needed bounce-back, rising out of recession in the first quarter, with several key economic indicators also signaling an upturn after the coronavirus pandemic. Japan's gross domestic product (GDP) grew by more than the expected 0.7 per cent in Q1 compared with the previous quarter. Annualised, this corresponds to economic growth of 2.7 per cent., with the main drivers being increased business investment and robust private consumption.
Hotels, restaurants and other service providers, in particular, are now experiencing a boom following the loosening of covid restrictions in Japan. "As daily life returned to normal after the pandemic subsided, shoppers' appetite was strong, helping department store sales in urban areas to post double-digit growth," notes the Bank of Japan's quarterly Tankan economic report.
Booming Consumption After Late Lifting of Coronavirus Restrictions
In Japan, many COVID-19 restrictions were lifted later than in other industrialized nations. Recommendations on the wearing of masks were not relaxed until March of this year. The last pandemic-related entry restrictions were lifted in April. Tourism and consumption are therefore still below pre-pandemic levels in some areas and need to catch up accordingly.
However, not only domestic consumption but also exports, which are particularly important for the economy in Japan, are showing an upward trend. In May, exports rose by 0.6 per cent – the 27th increase in succession. Export growth was driven primarily by strong international demand for Japanese cars. In contrast, exports to China, Japan's most important trading partner, recently declined. According to experts, however, Japan's exports should also benefit significantly from a possible upturn in China.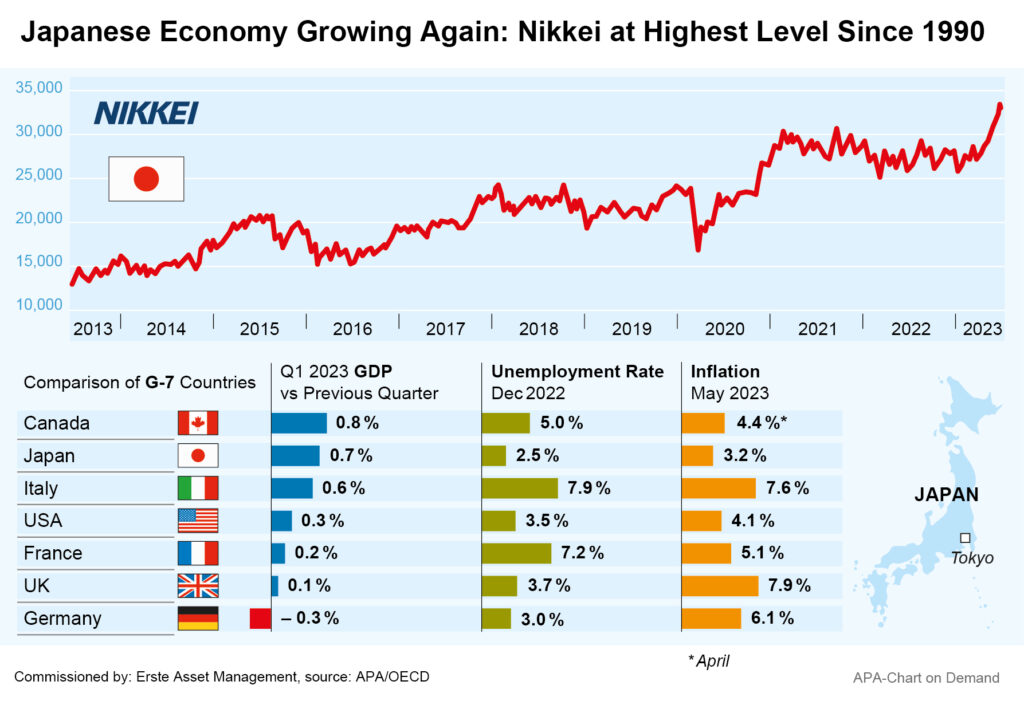 Weak Yen Supports Exports but Slows Domestic Consumption
The Japanese yen's current weak price is having mixed effects. While the US dollar recently rose to just under 144 yen, an increase of a good 10 per cent year-on-year – which makes important raw materials more expensive and is also slowing down domestic consumption – this also makes Japanese goods more attractive to foreign buyers and helps the export economy.
The business climate has developed well recently. The overall index for sentiment among major manufacturers was plus six, according to the Tankan report published in May, marking the first positive value in a year. The sub-index for service providers increased more moderately, but also reached an annual high thanks to the good performance of retailers and construction firms.
Central Bank Planning to Maintain Zero Interest Rate Policy for Now
Despite all these positive signs, Japan's central bank intends to stick to its zero interest rate policy, even under its new head Kazuo Ueda. Compared with other countries, the trend here is more or less upside down. While other major central banks are currently raising their key interest rates in order to push high inflation to target levels of around 2 per cent, the Bank of Japan is pursuing a zero interest rate course in order to lift inflation, which is too low, to its target level of 2 per cent.
Since 2016, the central bank has kept its short-term interest rate at minus 0.1 per cent in order to fight deflation. This is unlikely to change, at least in the short term. Although, at 3.2 per cent, Japan's inflation rate was above target in May, Japan's central bank chief Ueda still wants to continue its monetary easing policy.
The recent rise in inflation was driven mainly by external factors rather than strong domestic demand, Ueda said. Responding to such price increases with a tighter monetary policy would hurt the economy in Japan, he warned. In the medium term, however, he certainly intends to challenge the zero interest rate policy. After Ueda took office, the Bank of Japan announced a broad-based review of monetary policy, which is expected to take one to one and a half years. He said the central bank would examine various monetary easing measures and their impact on the economy and prices that have been taken over the past 25 years to combat deflation.
Nikkei Index at Highest Level Since 1990
In any case, the combination of persistently low interest and inflation rates, good growth prospects and also high dividends should go down well on the stock market. Japan's most important stock index, the Nikkei, has risen steadily of late, topping 30,000 points for the first time since 1990. This year alone, the index has already gained almost 25 per cent and is thus performing significantly better than both the Euro Stoxx 50 and the DAX with annual gains of around 13 per cent.
Sustainable fund for Japanese equities
The ERSTE RESPONSIBLE STOCK JAPAN fund is a first-class opportunity for anyone who wants to participate in the upturn of the economy in Japan and Japanese companies. The stock selection focuses on companies with medium to high market capitalization, attractive dividend yields and above-average quality.
The investment decision focuses on shares of companies that are pioneers in terms of environmental, social and governance aspects. The fund is clearly in positive territory both this year and over the past 10 years (with a performance of 5.7 percent per year *) And the potential is far from exhausted.
ERSTE RESPONSIBLE STOCK JAPAN
Performance of the past 10 years (26.06.2013 – 26.06.2023)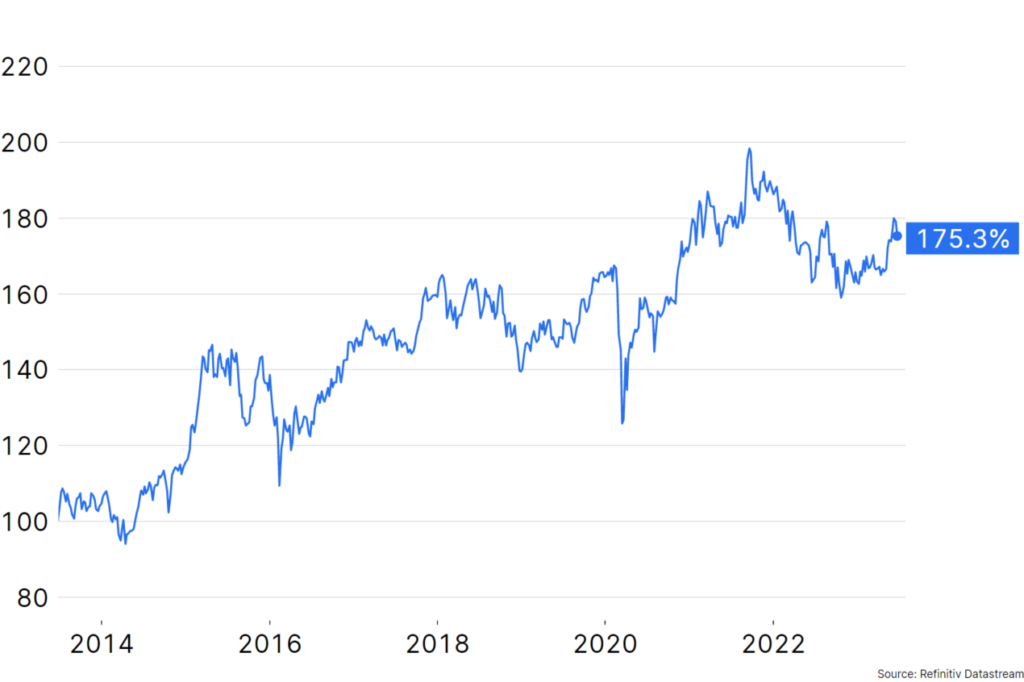 *) Source: Refinitiv Datastream; As of 26.06.2023; Development of the past 10 years; Chart is indexed (26.06.2023 = 100); The performance is calculated in accordance with the OeKB method. The management fee as well as any performance-related remuneration is already included. The issue premium which might be applicable on purchase and as well as any individual transaction specific costs or ongoing costs that reduce earnings (e.g. account- and deposit fees) have not been taken into account in this presentation. Past performance is not a reliable indicator of the future performance of a fund.
Risk notes
The fund employs an active investment policy and is not oriented towards a benchmark. The assets are selected on a discretionary basis and the scope of discretion of the management company is not limited.
For further information on the sustainable focus of ERSTE RESPONSIBLE STOCK JAPAN as well as on the disclosures in accordance with the Disclosure Regulation (Regulation (EU) 2019/2088) and the Taxonomy Regulation (Regulation (EU) 2020/852), please refer to the current Prospectus, section 12 and the Annex "Sustainability Principles". In deciding to invest in ERSTE RESPONSIBLE STOCK JAPAN, consideration should be given to any characteristics or objectives of the ERSTE RESPONSIBLE STOCK JAPAN as described in the Fund Documents.
Advantages for the investor
Broad diversification in selected Japanese companies with little capital investment.
Opportunities for attractive capital appreciation.
The fund is suitable as an addition to an existing equity portfolio and is intended for long-term capital appreciation.
Risks to be considered
The price of the fund can fluctuate considerably (high volatility).
Due to investments denominated in foreign currencies, especially in Japanese Yen, the net asset value of the fund can be negatively impacted by currency fluctuations.
Capital loss is possible.
Risks that may be significant for the fund are in particular: credit and counterparty risk, liquidity risk, custody risk, derivative risk and operational risk. Comprehensive information on the risks of the fund can be found in the prospectus or the information for investors pursuant to § 21 AIFMG, section II, "Risk information".
Legal note:
Prognoses are no reliable indicator for future performance.
For a glossary of technical terms, please visit this link: Fund Glossary | Erste Asset Management