The first evaluations of this year's voting season by our proxy partner ISS (Institutional Shareholder Services) reveal a striking picture: although environmental and social issues (E&S) dominated the shareholder motions, support for such motions from investors declined.
340 motions had been brought forward by June 2023, according to ISS, up from only 300 in 2022. But whereas the average support for E&S had been at 26% in 2022, it dropped to only 19% in 2023. 37 of these motions were able to find majority support in 2022, whereas in 2023 only 8 succeeded in doing so (N.B. evaluation January to June).
Anti-ESG movement in the US
This trend is probably in part due to a bureaucratic aspect: motions that could still be held back by companies in 2022, e.g. because they contained too detailed regulations, were submitted this year. The decisive factor here was the amendment of an SEC regulation, which favoured this restraint in recent years, but was adapted this year. The lack of support for such motions was reflected in the voting behaviour.
But the anti-ESG movement originating in the USA also played a role. For the first time, more motions were put to the vote that could be classified as "anti-woke" and, for example, questioned the positive cost/benefit ratio of emission reduction targets. The discrimination of non-minorities relative to minorities was also emphasised. In most cases, however, such motions achieved less than 5% support. The politicisation of ESG in general also took a toll. This year, as the Financial Times reported, several houses were seen to change their voting behaviour to the detriment of ESG, despite warnings from liberal-minded US pension fund managers and politicians not to turn away from commitments to ESG issues.
Erste AM steps up the support of E&S
After evaluating our voting policy this year with our partner ISS, we have decided to be more supportive of E&S issues in general and have found a proprietary solution for this implementation. Motions to be voted on will be carefully reviewed by ISS analysts and our ESG team. If, for example, the requirements of a motion were too difficult to fulfil, we would not approve it. Overall, however, we can show that our support for E&S has grown over the years: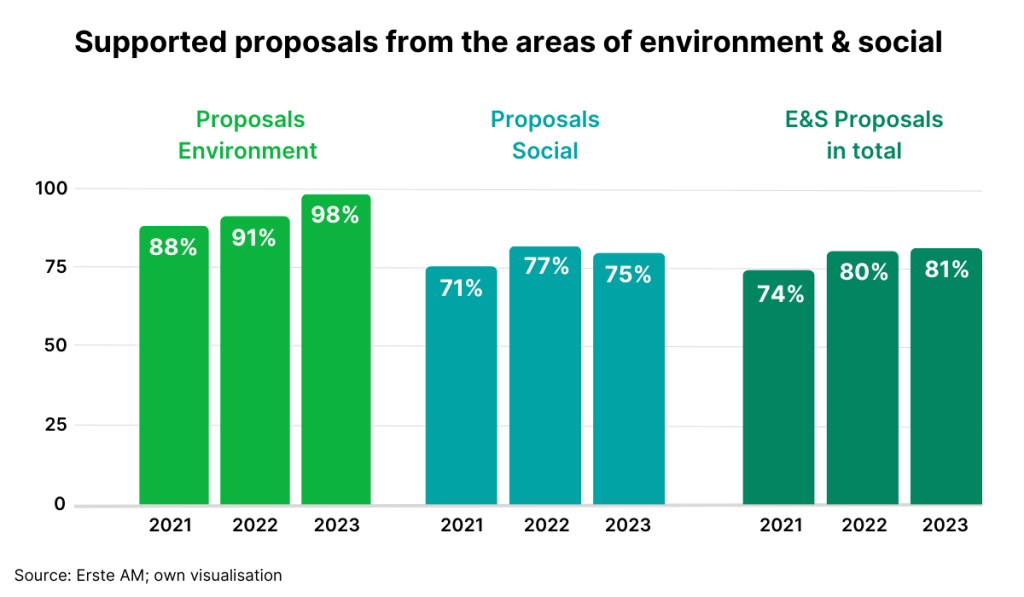 Especially in the environmental field, our approach has become clear: the number of motions we have supported has increased from 15 to 50 within the past three years. We have had a clear focus on climate policy & reporting.
While a large proportion of the 2023 climate motions called for climate targets to be aligned with the Paris climate goal, climate lobbying and fossil fuel financing were also among the issues raised. The adoption of transition plans of various companies by their shareholders was also voted on. We supported some of these motions, such as the one from Schneider Electric. The majority of shareholders supported the demand for more transparency regarding climate lobbying at New York Community Bancorp and the consideration of methane emissions at Coterra Energy, as reported by ISS.
Climate disagreement
The different expectations regarding the handling of the global climate crisis and the increasingly politicised sides of the issue were apparent at this year's Chevron Annual General Meeting. Majority Action, an initiative that calls on investors to hold companies accountable for compliance with ESG standards, demanded that the board of directors not be supported or re-elected this year because relevant climate risks were not sufficiently taken into account. Reduction targets would not sufficiently take into account a minimum of 95% of all Scope 1&2 emissions, as well as relevant Scope 3 emissions, and future capital allocation was not aligned with the Paris climate target.
By contrast, a motion by David Bahnsen called for the establishment of a committee to evaluate the risks arising from decarbonisation. In view of the obvious contradiction between the demand of the latter proposal and the steps needed for the transition to a lower-carbon future, we did not support this motion.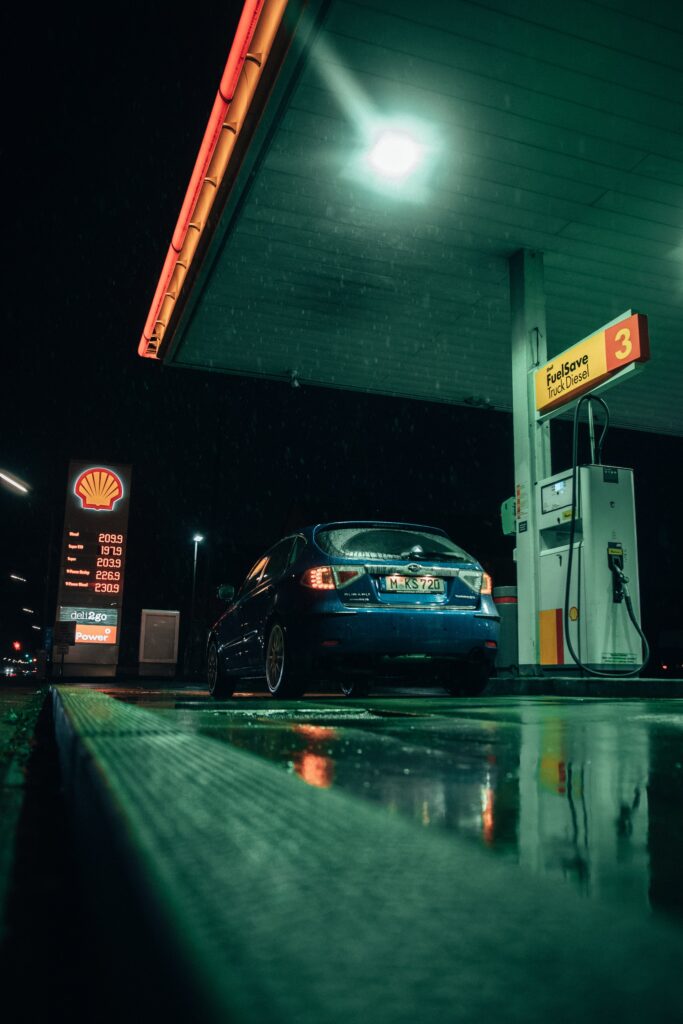 At this year's Shell AGM the company was again confronted by considerable protests. Due to rising energy prices, the group had achieved record profits but still aimed to reduce emissions to zero by 2050, as CNBC reported. Investors demanded that Scope 3 emissions, which could be understood as those emissions that occurred upstream or downstream along the value chain, should therefore be given increased consideration in the definition of climate targets or conformity with the Paris climate targets.
According to Carbon4 Finance, these amount to around 85% of total emissions in the oil & gas segment. This year, the corresponding motion was supported by 16.75% of all shareholders; we were among the supporters.
Already noticeable consequences of the climate crisis, such as the global water shortage, came into focus at Kraft Heinz. While the company had succeeded in setting water intensity targets and implementing water risk assessments at production sites, shareholders also believed that it would be desirable to address water risks in the upstream agricultural supply chain, as future bottlenecks were to be expected there. Due to the growing pressure from the advancing climate crisis, the quality as well as the quantity of the remaining available water resources should be reported and made known to the shareholders. This motion also received our support.
For more information on our voting behavior, please visit our website.
Read more articles from the ESGenius Letter on the topic of "Climate Risks" here!
For a glossary of technical terms, please visit this link: Fund Glossary | Erste Asset Management
Legal note:
Prognoses are no reliable indicator for future performance.