The decline in crude oil prices has led to a trend reversal in the energy market this year: while many power companies have recently raised their profit forecasts, the major oil companies suffered massively from the recent drop in crude oil prices. Meanwhile, in the effort to reach climate targets, the trend toward renewable energies continues unabated.
The dramatic oil price increases following Russia's invasion of Ukraine brought massive profits to the major oil companies in 2022. Immediately following the start of the war in Ukraine, the price of key oil benchmark Brent crude soared to around 130 USD per barrel (159 liters). This year, however, the price of oil intermittently fell back below 80 USD.
As a result, the five largest Western oil companies reported massive drops in profits in Q2. BP's profit saw a particularly steep drop of around 69 per cent to USD 2.6bn. Shell and France's TotalEnergies both reported a halving of quarterly profits to around USD 5bn each. US oil giant Chevron also saw its quarterly profit roughly halved to around USD 6bn.
Major European Power Companies Optimistic After Good Half-Year Results
Meanwhile, many power companies are much more optimistic about the future after a successful first half-year. After reporting surprisingly good quarterly figures, German power company RWE raised its net profit forecast for the entire year from previously EUR 2.2bn–2.7bn to USD 3.3bn–3.8bn. Spanish power company Iberdrola also recently raised its profit outlook after having increased its net profit in the first half-year by more than 20 per cent to over EUR 2.5bn. Italy's Enel increased its net profit by as much as 52 percent to EUR 3.3bn. The utilities benefited from the normalisation on the energy market as well as good business in the hydroelectric, biomass and gas sectors.
Investments in Gas-Fired Power Plants That Can be Converted to Hydroelectric Plants
These sectors in particular are likely going to continue to benefit from the decarbonisation and energy transition efforts to reach climate targets, including the gas sector, which is also experiencing a small boom. Countries like Germany are hoping to achieve climate transition by building new gas-fired power plants that can be converted to hydroelectric plants in the future. Germany is planning massive subsidies for such power plants so that the phase-out of coal-fired power targeted for 2030 can be achieved.
Hydrogen power plants complement wind and solar energy: They are intended to compensate for the "dunkelflauten" called wind and solar doldrums. However, the production of hydrogen by electrolysis also requires electricity. If the technology is to be environmentally friendly, green electricity from other sources is therefore also required.
Some companies have already jumped on this bandwagon. Germany's RWE, for example, recently announced the construction of a gas-fired power plant that can also run on hydrogen. Other major economies are also planning major investments in this area; the USA, for example, has created attractive framework conditions for investors.
Another important pillar of the energy transition is the move in the transportation sector from internal combustion to electric vehicle (EV) engines. In view of the EV boom, this means that electric power companies will have an even more important role to play. In turn, the increased adoption of sustainable aviation fuels (SAF) is crucial for the decarbonisation of air traffic. According to EU plans, their share should be down to 2 per cent by 2024. Many companies are already investing in the production of such fuels, based on food crops, biomass or in the form of synthetic fuels.
EU Target Calls for 42.5 Per Cent Renewable Energies by 2030
With all these measures, the EU hopes to achieve its adopted climate targets. These include reducing energy consumption across the EU by 11.7 per cent and increasing the share of renewable energies in the energy mix to 42.5 per cent by 2030. The G20 countries, meanwhile, were unable to agree on common targets for renewable energies at their last meeting in July. In particular, individual countries with high production or consumption of fossil fuels tended to object to stricter goals. There was, however, a joint commitment to decarbonise industries with high energy consumption for the first time.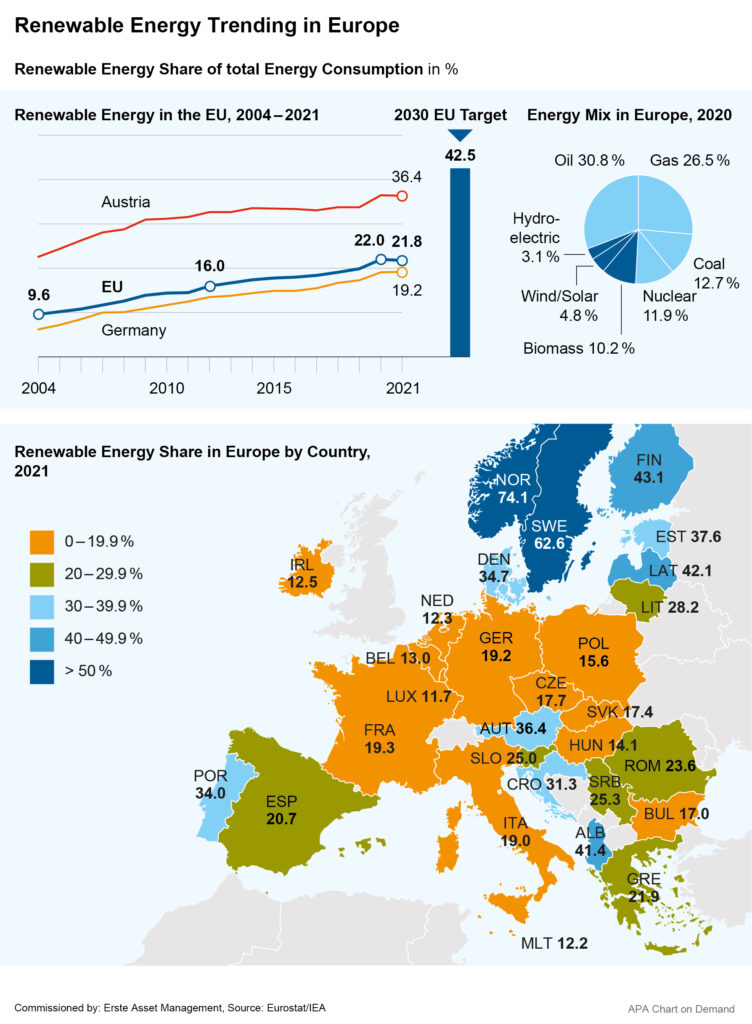 As it is, gas and oil are likely to remain in demand for the time being until the complete transition to sustainable energies is achieved. The USA, for example, has recently ramped up its liquefied natural gas production again. Europe remains the main destination for gas exports. And oil companies have also recently increased their investments in exploration and production. According to experts, demand for oil has not yet been peaked and won't do so for another few years.
For a glossary of technical terms, please visit this link: Fund Glossary | Erste Asset Management
Legal note:
Prognoses are no reliable indicator for future performance.
The companies listed here have been selected as examples and do not constitute an investment recommendation.