Martin Cech, the fund manager of ERSTE RESPONSIBLE MICROFINANCE, participated at an investor trip to Uzbekistan from 12 to 16 June at the invitation of Invest in Visions. While in the first part of his travel report he wrote about the banks and microfinance institutions he visited, in this second part he describes his impressions of the visits to borrowers. He talked to them mainly about their business relations with the banks and institutions, their loans, and their ongoing business activities.
Strong growth in the banking sector
Last year, the banking sector in Uzbekistan recorded a healthy growth rate of 25%. In general, economic growth in the predominantly Muslim country is currently fluctuating within a range of 5.5 to 6.0% p.a. Besides China and Turkey, the main trading partners are Kazakhstan and Russia.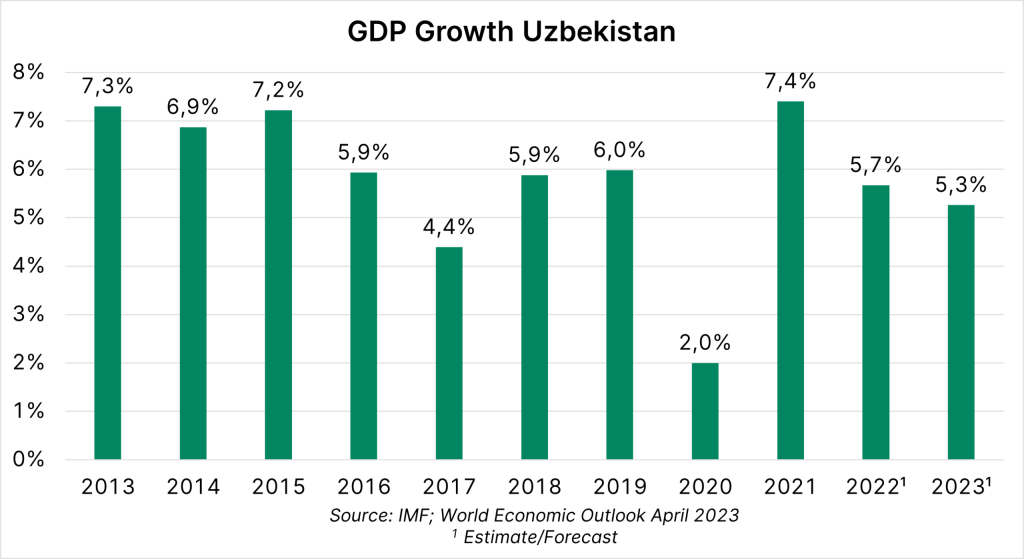 Note: Past performance is not a reliable indicator for future performance of an investment. Prognoses are not a reliable indicator for future performance.
Uzbekistan exports mainly cotton, natural gas, gold, and cars (N.B. a joint venture with General Motors for the Chevrolet brand). The national currency is the Som (UZS), with an exchange rate relative to the euro of currently 1:12,000.
Half of the population is "unbanked"
Of the 43 commercial banks, 16 banks have various domestic and foreign investors, 15 are state-owned, 6 are held by foreign investors, and 6 are privately owned. In addition, there are 154 MFIs in Uzbekistan, which are highly regulated and significantly smaller in volume than commercial banks and, for example, are not allowed to take deposits. This supply with financial institutions notwithstanding, about 50% of the population is still unbanked.
Private clinic "Mubinaxon Shifo"
25 Employees
Two lines of credit totalling EUR 50,000
The loans were used for medical equipment and devices. In Uzbekistan, there is free primary care, but further treatments are chargeable. The clinic performs brain and spinal surgeries.
After an outpatient examination, a contract is drawn up with the patient, who pays for the surgery in instalments.
The clinic started in 2022 and is frequented by 2,000 – 3,000 patients per year, so marketing is not necessary. The director previously worked in a state hospital and also teaches around 300 students at the site.
Tailor "Andin Fashion"
100 Employees (95% women)
Credit totalling EUR 20,000; 3Y maturity
The family business was launched by three brothers in 2016. They already had previous experience in trading fabrics. The region near the border with Kyrgyzstan is famous for textiles.
The loan was used to buy business equipment such as sewing machines. The products are currently exported exclusively to Ukraine under the brand Andin Fashion. While demand is unaffected, due to the war, logistics including transport across the Black Sea is challenging.
The business produces nightgowns, women's dresses, sweatpants, and T-shirts (1,000 sweatpants/day, 5,000 dresses/day). Employee benefits include a salary of about EUR 200 to 300 per month, free transport, kindergarten, and lunch. The working week is 40 hours from 8 a.m. to 5 p.m., with production taking place six days a week. Plans are to install a photovoltaic system. The goals are further growth and export to Europe.
Spinning mill "Musofar"
15 Employees
Credit totalling EUR 20,000; 4Y maturity
The project started in 2020 with used machines. The current loan was used to buy a new, more modern machine. Each machine produces 300kg of yarn per day, and 6-7 t-shirts can be produced from one kilogram. The fabrics are sold to local textile companies, and there is a lot of competition. The professional qualification of the workers is important. Cotton accounts for 100% of production. Harvesting is done at the end of September/October. The installation of a photovoltaic system would be desirable, but it is expensive.
Cattle breeder
Family-run operation with three children helping in the business
Credit totalling EUR 1,500, 1Y maturity
The business was launched in 2020 and has in the meantime expanded from four to 15 cattle. The purchase price per calf is EUR 330. After 5 months of rearing, the sales price is EUR 1,000 EUR. The milk produced (6 litres/day) is partly used for own consumption, partly sold. The dried excrements are used for heating in winter.
Grocery store
Family business run by three family members
Credit totalling EUR 1,500, 1Y maturity
About half of the monthly profit is used for current family expenses, the other half is reinvested in the business. An external guarantee was used for the loan.
ERSTE RESPONSIBLE MICROFINANCE is a fund of funds that invests in microfinance funds or bonds on microfinance instruments and funds as well as up to 10% in shares in companies and microfinance institutions. Foreign currencies are mostly hedged. The investment decision focuses on a measurable positive impact on the environment or society.
For a glossary of technical terms, please visit this link: Fund Glossary | Erste Asset Management
Legal note:
Prognoses are no reliable indicator for future performance.
Portfolio positions of funds disclosed in this document are based on market developments at the time of going to press. In the course of active management, the portfolio positions mentioned may change at any time.
The companies listed here have been selected as examples and do not constitute an investment recommendation.
Advantages for the investor
Global lending in particular to individuals in emerging markets is supported.
Correlation is low compared to traditional asset classes.
Opportunity for long-term attractive earnings.
Risks to be considered
With regard to the modalities regarding the issue and redemption of unit certificates, please note the key investor information / KID and § 21 AIFMG point 10.
Investments are made in alternative investments, which in particular involve increased liquidity risks.
Due to the investment in foreign currencies, the net asset value in Euro can be negatively impacted by currency fluctuations.
Capital loss is possible.
Risks that may be significant for the fund are in particular: credit and counterparty risk, liquidity risk, custody risk, derivative risk and operational risk. Comprehensive information on the risks of the fund can be found in the prospectus or the information for investors pursuant to § 21 AIFMG, section II, "Risk information".
For further information on the sustainable focus of ERSTE RESPONSIBLE MICROFINANCE as well as on the disclosures in accordance with the Disclosure Regulation (Regulation (EU) 2019/2088) and the Taxonomy Regulation (Regulation (EU) 2020/852), please refer to the current §21 AIFMD Document, section 12 and the Annex "Sustainability Principles". In deciding to invest in ERSTE RESPONSIBLE MICROFINANCE, consideration should be given to any characteristics or objectives of the ERSTE RESPONSIBLE MICROFINANCE as described in the Fund Documents.