Crude oil prices continue to rise, recently reaching new 10-month highs after showing substantial gains since June. The main driver is the concern about the supply of large producing countries such as Saudi Arabia or Russia. In addition, a larger demand is expected in view of the economic upturn in China.
The price of North Sea Brent crude lay around 95 US dollars per barrel (159 liters) on Tuesday morning, up from around 75 dollars in late June and once again approaching the 100-dollar mark. Previously, prices for the crude oil benchmark had topped 100 euros in September 2022. A barrel of the American variety West Texas Intermediate (WTI) for October delivery was last traded at close to 91 dollars. These are the highest levels since November 2022 for Brent and WTI oil.
Oil prices have recently been driven by tight supplies as major producing countries are currently keeping their quotas tight. Saudi Arabia, the OPEC production cartel's largest oil producer, had announced in early September that it would further extend the production cuts started in July, of one million barrels per day, until the end of the year. Output is thus expected to remain at 9 million barrels per day. Officially, this is intended to keep the market in balance, but many experts actually see the strategy as a means of increasing prices and revenues. At the same time, Russia announced it would continue to reduce its oil exports by 300,000 barrels per day through the end of the year.
IEA Warns of Supply Shortage
According to the International Energy Agency (IEA), the oil production cuts could lead to a significant supply shortage, expected from September and lasting for the remainder of the year, the IEA stated in its monthly oil market report last week. Oil stocks could fall to uncomfortably low levels while oil prices rise.
The Saudi and Russian decisions to extend their voluntary production cuts until the end of 2023 are proving to be a formidable challenge for oil markets, the IEA said, with a noticeable price increase already manifesting.
Production cuts by OPEC countries have recently been offset by higher supplies from producers outside the alliance, such as the US and Brazil. Iran, which is still under sanctions, also increased its production, according to the IEA. Most recently, Libya also resumed its oil production after a disastrous storm hit the country.
However, the OPEC cuts, combined with an expected increase in global oil demand, could lead to a daily deficit of 1.24 million barrels in the latter half of the year, the IEA expects. OPEC itself most recently forecast a daily deficit of more than three million barrels in Q4, which would mark the largest deficit in at least a decade.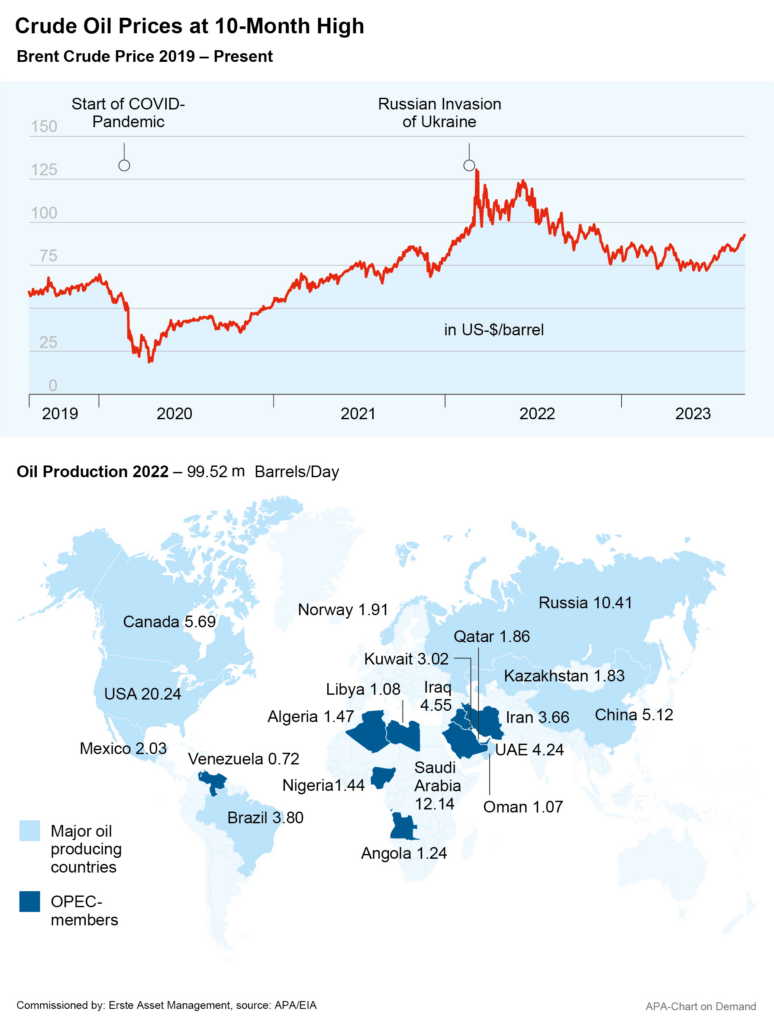 Positive Numbers From China
China is responsible for 75 per cent of the expected increase in demand, the IEA report stated. Last year, Chinese oil demand dropped for the first time since 1990 due to the pandemic lockdown. In the first half of 2023, China ramped its oil imports back up to 11.4 million barrels per day, up 12 per cent from the 2022 average, according to IEA figures.
In addition, recent economic data suggests stabilisation in the struggling economy and, consequently, rising oil demand from China. Both industrial production and retail sales in the country rose more than expected in August, with industrial production up 4.5 per cent from last year as opposed to economists' expectations of 3.9 per cent. Retail sales, a key indicator of private consumption, grew by 4.6 per cent. Analysts had expected a 3.0 per cent increase here, following an increase of 2.5 per cent in July.
In addition to production cuts and the expected increase in demand, data on US oil inventories have recently also fueled expectations of rising prices. Crude oil inventories in the US have decreased in recent weeks, reaching their lowest level since December 2022 in late August. The IEA also sees lower global oil inventories as another price driver and expects Brent oil prices to average USD 93 in Q4. However, global demand growth is expected to lose momentum again in 2024, according to the agency's forecasts. Efficiency improvements, the rising number of electric cars and increased work-from-home activity should slow demand, the IEA states.
Natural Gas Prices Seeing Price Increases
Impending supply bottlenecks, triggered by a strike at Australian liquefied natural gas (LNG) plants, have also intermittently led to significant price increases for natural gas earlier this month. The country is the world's largest exporter of this fuel type. For the time being, the unions have not reached an agreement with the operator Chevron on a new collective agreement and better working conditions. According to the news agency Bloomberg, the plants affected by the strike were responsible for about 7 per cent of global LNG production last year. According to experts, however, the strikes are unlikely to have an immediate impact on the supply situation, as European gas storage facilities are well stocked. Nevertheless, Europe is dependent on a steady supply of liquefied natural gas.
High oil price boost for companies of the ERSTE STOCK COMMODITIES
ERSTE STOCK COMMODITIES offers the opportunity invest worldwide in raw materials companies. The investment strategy seeks to have a balanced portfolio across the basic materials and energy sectors, with an overweight on developed market companies.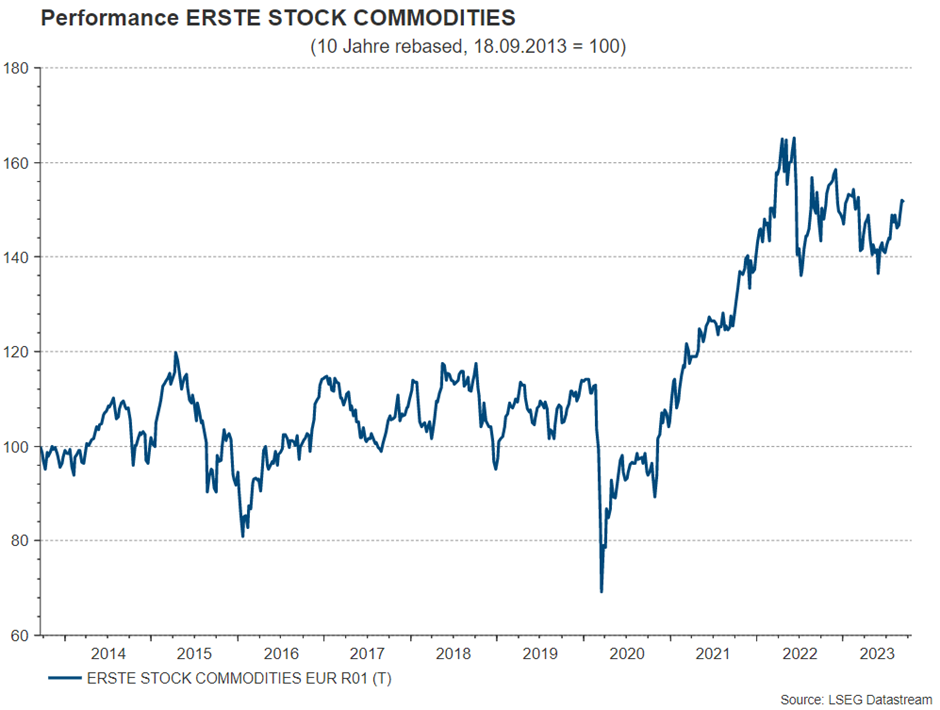 Legal note:
Prognoses are no reliable indicator for future performance.
As you can clearly see from the price chart, the prices have climbed significantly in parallel with the rising oil prices from June of this year. When investing, you must always take into account that the fund price can fluctuate greatly and that changes in the raw materials industry as well as exchange rate changes can affect the fund price. The chances of generating income from well-capitalized companies are good, especially in volatile markets.
For a glossary of technical terms, please visit this link: Fund Glossary | Erste Asset Management