Russia's war of aggression in Ukraine has boosted inflation, disrupted global supply chains, and sent energy prices soaring. The EU has felt the brunt of years of dependence on energy imports, especially from Russia. In this respect, 2022 was a "gamechanger". While the EU was already ambitious in terms of energy transition, the energy crisis has added urgency from a political angle.
The EU prioritises energy autonomy and wants to reduce dependence on third countries through various initiatives. An important goal – after all, sufficient and cheap access to energy correlates highly with the prosperity of nations. "REPower EU" is an ambitious plan to diversify Europe's energy supply and make it more sustainable.
Four supporting pillars
On 18 May 2022, the European Commission presented its plan for rapid independence from fossil energy from Russia and to accelerate the ecological transformation: REPower EU. The plan rests on four pillars:
Energy savings: mandatory energy reduction of 13% for all member states by 2030
Diversification of energy supply: Europe is heavily dependent on Russia, especially for gas supply; this dependence is to be reduced through technologies such as LNG and hydrogen
Renewable energy: in order to reduce dependence on fossil fuels, we need to promote the development of renewable energies such as wind and photovoltaics
Financing: more than EUR 210bn is required to speed up energy autonomy, which will be provided by the EU through various facilities
This blog article will focus on pillar 1 (energy savings) and pillar 3 (renewable energy).
Energy efficiency
The cleanest energy is the energy we don't use. Energy savings are the safest and most cost-effective way to reduce our dependency on fossil fuels. Therefore, RePower EU calls for an increase in energy efficiency, which should reduce energy consumption by 13%. This is to be achieved, among other things, by promoting efficient insulation materials, LED lighting, smart metering, smart buildings, and heat pumps. But each individual can also contribute to reducing energy consumption – behavioural changes can reduce natural gas demand by up to 5%. The biggest contribution on an individual level would come from a reduction of one degree in heating temperature during winter and a converse increase of the air conditioning temperature in summer; but switching to public transport and reducing private transport can also help.
In addition, the expansion of heat pumps is to be promoted: in the coming five years, more than ten million heat pumps are to be installed across Europe. Models by the International Energy Agency suggest that this measure alone could reduce European natural gas consumption by over 5%.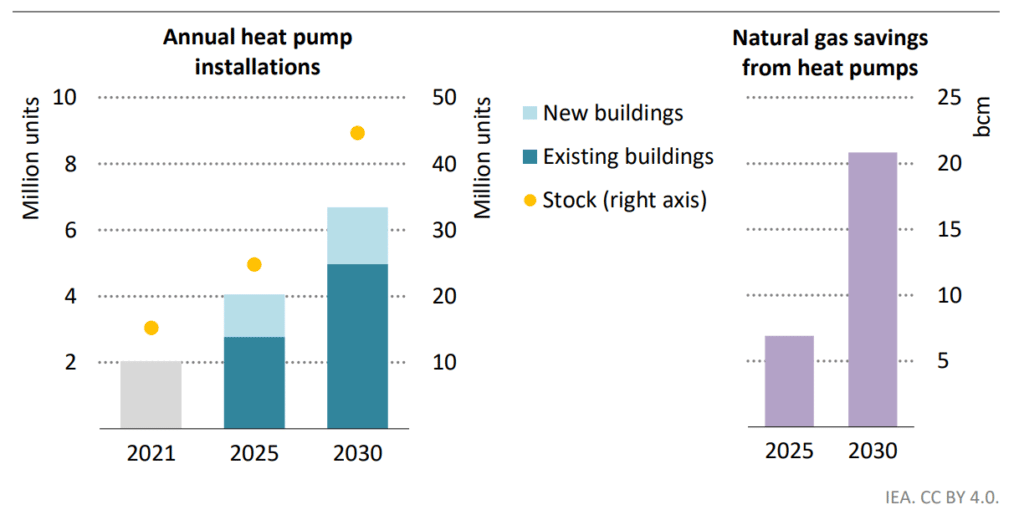 Speeding up the energy transition in Europe
The most important part of REPower EU is the acceleration of the energy transition and the expansion of renewable energies. The goal is to increase the share of renewable energies to 45% in terms of total energy mix by 2030 – a bar that has already been raised several times in recent years.
This idea is really to put a turbo booster on this process, as can be seen from the example of photovoltaics: by 2025, 320GW (gigawatts) of new photovoltaic systems are to be installed. For comparison: as of 2021, installed photovoltaic capacity was at 160GW – so the plans call for the building of twice the installed capacity within three years! By 2030, the installed volume of photovoltaics plants is to reach 600GW.
In addition to photovoltaics, the expansion of wind and offshore wind plants is to be further promoted and, above all, accelerated. Renewable projects are already the cheapest source of energy, but approval and licensing procedures are very lengthy and complex. The lead times for wind and photovoltaic plants are currently six to seven years, with most of the time spent on bureaucracy. The EU has set itself the goal of speeding up these processes in order to clear the backlog of projects and accelerate expansion.
Note: The global benchmark for photovoltaics, wind, and battery storage is a country-weighted average that takes into account the latest annual capacity additions. The levelled cost of energy for battery storage reflects a four-hour li-ion battery storage system operating on a daily cycle and includes charging costs.
The Commission has also proposed that commercial and public buildings must be equipped with rooftop photovoltaic systems from 2027, and new residential buildings from 2029. "I know this is ambitious, but it is realistic, we can do it," said EU Commission President Ursula von der Leyen, pointing out that investing in renewables was the EU's "biggest task".
Triumph or paper tiger?
The ambitious goals currently only exist on paper. On 18 May, the EU Commission presented its plan for RePower EU. Concrete steps still have to be taken, and the legal framework has yet to be created.
So far, the European Commission's website mainly shows progress in the diversification of natural gas sources. RePower EU can be a great success and address the pressing issues in the field of renewable energies. Unfortunately, six months have so far passed from the time of the announcement – important time during which we have seen little progress. We can only hope that the EU takes its ambitions seriously and that RePower EU does not degenerate into a paper tiger.
This article is part of the ESGenius Letter on the topic of the Energy of the Future. The other articles with information and insights on sustainable energy use can be found here.
For a glossary of technical terms, please visit this link: Fund Glossary | Erste Asset Management
Legal note:
Prognoses are no reliable indicator for future performance.